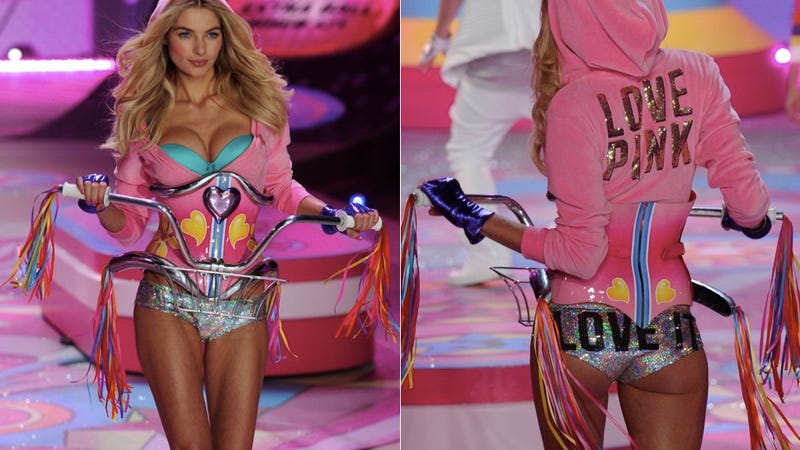 RIP, PINK? Victoria's Secret's line marketed to a younger demographic than their VERY SEXY everything else that was once touted as the brand's saving grace might to be going the way of Juicy Couture, to become a distant memory in fashion's history of things that used to be cool.
BuzzFeed reports that according to a new customer survey, PINK, which was started by Victoria's Secret to target their college consumers, could see a downward trend in sales in the near future:
...they said shows the majority of women in Pink's core audience are not buying more of the brand and don't view it as becoming more popular in the future. "Overpriced" and "expensive" were the top words to describe Pink's most notable qualities, according to the survey, and respondents said they would prefer to shop for lingerie and loungewear at cheaper stores.
This news sits in sharp contrast to recent reports that showed that the brand was starting to make up a larger portion of Victoria's Secret's annual sales each year. "If the PINK brand does fall somewhat out of favor, we believe this is similar to what played out at competitor Juicy Couture," the report reads. "PINK and Juicy Couture are similar in that they both target college age girls and a focus on lounge wear with novelty items such as the brand logo featured on sweat pants and sweat shirts."
This isn't dissimilar to what we've seen with brands like Abercrombie & Fitch, American Eagle and Aeropostale, who have seen drops in sales over the past few years, which BuzzFeed has also reported on. In the case of AAA, their logoed, preppy style which once indicated money and status has fallen out of favor in exchange for trend-based clothing companies like Forever 21 or H&M.