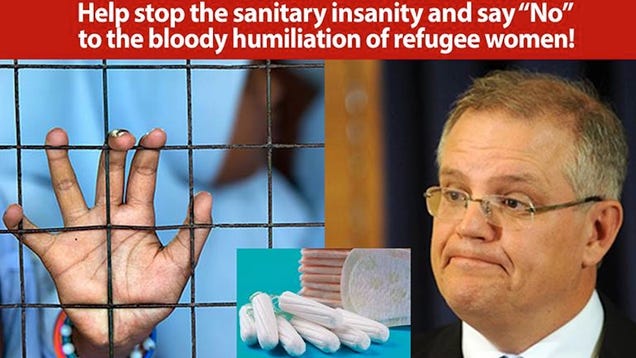 The women of Australia are currently bombarding their Federal Minister for Immigration and Border Protection, Scott Morrison, with tampons and maxi pads. But it's for a cause!
BuzzFeed reports that this feminine hygiene avalanche began with claims made by the advocacy group RISE. According to the org, female asylum seekers and refugees held in some of Australia's detention centers are sometimes forced to ask repeatedly for tampons and/or maxi pads, as they only get one or two at a time. (What are they gonna do, built a tampon fort? Fashion a shiv made of tampons?)
Morrison's office has denied the reports, and Chilout, an advocacy organization against the detention of children, couldn't corroborate. But a feminist group called Destroy the Joint asked women in Australia write to the MP—and to include (unused!) tampons and pads to make sure he got the message. Their demand: "The first thing Morrison can do is ensure all those who need sanitary products get them in good supply, whenever they need it without having to ask a guard. Period."
So the bombardment began, complete with accompanying trending hashtag (#stopthetampons). Some people merely sent letters with tampons attached or enclosed:
@JointDestroyer - about to head to the Post Office #StopTheTampons pic.twitter.com/LuYplWRsgJ

— Sally Farrell (@Sally_Owl) January 6, 2014
Others wrote messages onto maxi pads:
@JointDestroyer hey @ScottMorrisonMP stop being so bloody inhumane #StopTheTampons pic.twitter.com/PG2WLuL30A

— Neurofluff (@neurofluff) January 8, 2014
Others got a little more D.I.Y.:
#stopthetampons @ScottMorrisonMP - I'm so ashamed of our national policy and treatment of asylum seekers pic.twitter.com/ToSuvcl0mH

— Sarina (@SarinaKilham) January 8, 2014
One of the organizers told the Sydney Morning Herald that it wasn't just about the tampons, either: "The issue is that there is a continued attack on the health care of women in our detention centres. Tampons are a symbol of a lack of health care ... it's symbolic of the terrible health care that our asylum seekers and refugees get across the board."
It's a clever, cheeky protest. It's almost enough to make a gal want to do some tampon D.I.Y.! (Almost. Not quite.)
Image via Destroy the Joint's Facebook