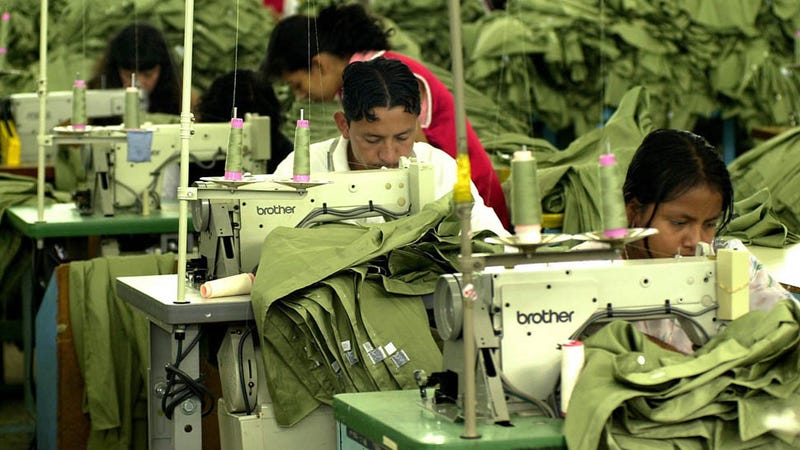 There's no better way to change people's shitty behavior than to convince them that the shitty thing they're doing is uncool. Everybody wants to be cool! And when I graduated from high school in Seattle in 2000, anti-globalization and human rights activists had pulled off a major branding coup—sweatshops were considered deeply uncool.
It's difficult for activist movements to bridge the gap between the informed few and the uninformed many—to get affluent teenagers who may never even drive past a garment factory to prioritize the needs of (seemingly) remote strangers over their own convenience—the general assumption being, at least in my experience, that, oh, other people are taking care of it. There's a white guy with dreadlocks somewhere who knows what to do. He'll handle it. And besides, I really need this tank top.
But somehow, in the late '90s, the anti-sweatshop movement managed to get a real brand going. "Not wearing clothes made by slave labor" was the "normcore" of 1999.
I wasn't even a particularly consistent or well-informed young revolutionary, but for years I had a kneejerk aversion to anything too cheap to be true. Someone was paying a price for those clothes, somewhere. So I thrifted a lot, I avoided the big-name no-nos like GAP and Old Navy and Nike and Walmart, and I justified my few mainstream purchases with a combination of selective ignorance (I don't know for sure that a child made these $30 jeans) and shruggy pragmatism (I can't just not wear pants).
It was literally the least I could do; given my level of privilege, it was almost nothing at all. I was lucky to be able to choose where I shopped (plus, it wasn't like GAP made clothes in my size anyway). I didn't have a family to support or significant consequences if I exceeded my budget.
But my point is that I'm impressed, in retrospect, by how effective the messaging was in that moment. "Pay attention to where your clothes come from" somehow got through to me and every other dumb kid I knew. And, according to labor activists in 2014, that's no longer the case.
Amy Merrick has an interesting essay in the New Yorker this week about the reasons why college students—once loud advocates for humane labor conditions—now seem to be more interested in shopping at Forever 21 than picketing it.