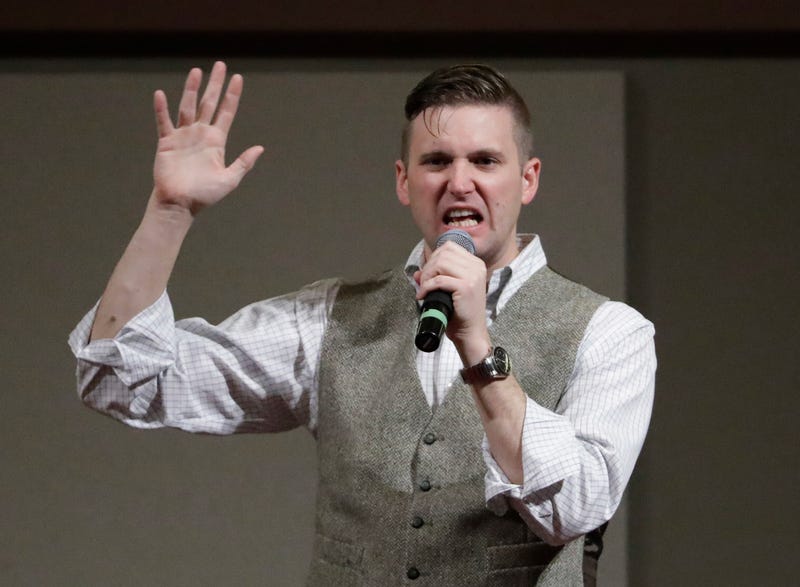 On Friday, The Daily Stormer founder Andrew Anglin published an incendiary bit of propaganda that called on white supremacists to harass Jewish people in the town of Whitefish, Montana, claiming that they have caused Richard Spencer's mother's real estate business to fail (of course, this is not true), Think Progress reports. Richard Spencer is a white supremacist and president of the National Policy Institute, credited with coining the term "alt-right." A few weeks ago he was quoting Nazi propaganda in German at D.C.'s NPI conference, and, as of this week, the scum is considering running for Congress.

He is also this guy:
On Tuesday, Sherry Spencer (Richard's mother) complained to ABC Fox Montana that her business is suffering—apparently some people don't like her son's "political views," and it's those people who are the problem. Sherry is now considering selling a building she owns in Whitefish's downtown historic district, whose top-floor vacation rentals she leases out.
Sherry told ABC in an email that while she "unequivocally [does] not agree with the extreme positions espoused by Richard," she places blames mostly on human rights group Love Lives Here, but it's not clear why, other than that they also do not agree with Richard's positions. Love Lives Here co-founder Ina Albertput it this way to ABC, "I don't know what she's talking about."