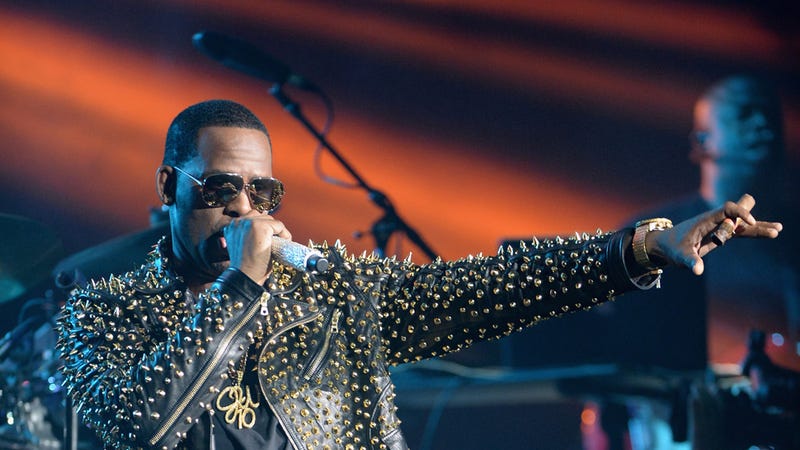 It's 2003 and I am sitting in the passenger seat of my friend Robyn's Crown Vic as we cruise around the outskirts of Madison, Wisconsin. R. Kelly's "Ignition (Remix)" comes on the radio and the car's passengers — all of us female, middle class and white — erupt in cheers. Even though it's still cold outside, we roll down the windows and turn up the volume. Strangers give us weird looks, but none of us seem to mind as we sing along and laugh. The song ends and we groan. We repeat the whole thing over again when the it comes back on the radio 20 minutes later.
How lucky we were to be so carefree. How lucky considering that had we been born with browner skin and lived 150 miles south in Chicago, we might not be thinking of R. Kelly simply as the singer who had just released the song that would act as the soundtrack to our sophomore year of high school, but instead as a the sexual predator who was repeatedly targeting, sexually assaulting and ruining the lives of our African American female peers.
I wish I could say that at the time we were completely unaware of R. Kelly's crimes, but we weren't. We knew that he had married Aaliyah when she was only 15 and we knew that he had gone to court in 2002 after a video was released that allegedly showed R. Kelly engaging in sex acts and urinating on a 15-year-old girl. That's where our knowledge ended and unfortunately, what we took away from all that was a bunch of jokes about how R. Kelly liked to pee on people, with little to no thoughts or consideration spared for his teenage victim.
Sadly, it wasn't just my group of immature friends who were thinking like this. R. Kelly's court case became a national punchline with most people going after R. Kelly's urine kink rather than the true heart of his crimes. Truth is, it was far easier to make jokes than it was to face the facts — that R. Kelly, a musician we all liked, was also a child predator who was capitalizing on his indiscretions and using them to sell even more songs and albums.
Unfortunately, that's not a line of thinking that mainstream culture has ever really grown out of. We continue to play dumb about R. Kelly because it's much harder to make "Trapped in the Closet" jokes when you remember that the person behind "Trapped in the Closet" has been sexually exploiting young black women on the southside of Chicago for decades now. Of course, ignoring that kind of information is in and of itself a privilege. It's pretty damn simple (and pretty damn wrong) to pretend like something isn't happening if it's not happening in your own community.
Fortunately (and I use that word very loosely), the public has been taking the allegations against Kelly a little more seriously in recent weeks, thanks mostly to an interview in the Village Voice with Chicago-based music journalist Jim DeRogatis, who has been following the story for nearly 15 years now. DeRogatis was the one who first received the video of R. Kelly allegedly performing sex acts with an underage girl (we say "allegedly" only because he was never charged) and he has refused to stop investigating and talking about R. Kelly's crimes ever since, no matter how much he was shouted down or largely ignored.
In reading the details of the Village Voice piece, R. Kelly's M.O. as a serial exploiter and rapist of young black women becomes impossible to ignore and suddenly his new Black Panties album doesn't seem quite as funny.
DeRogatis tells the Village Voice's Jessica Hopper about how R. Kelly used return trips to his former high school Kenwood Academy as a way to find African American teen girls for him to have sex with.
The details are truly sickening:
"[Kelly] would go back in the early years of his success and go to Lina McLin's gospel choir class. She's a legend in Chicago, gospel royalty. He would go to her sophomore class and hook up with girls afterward and have sex with them. Sometimes buy them a pair of sneakers. Sometimes just letting them hang out in his presence in the recording studio. She detailed the sexual relationship that she was scarred by. It lasted about one and a half to two years, and then he dumped her and she slit her wrists, tried to kill herself. Other girls were involved. She recruited other girls. He picked up other girls and made them all have sex together. A level of specificity that was pretty disgusting."
While this is a shameful thing to admit, I think that somehow it was easier to like R. Kelly if you were ever able to kid yourself that the number of his victims were limited to the two most famous ones. In the case of statutory rape, a lot of people are able to convince themselves that the rape isn't real or that "maybe she really did want it."
But that already weak excuse grows even weaker when you realize that R. Kelly's victims are not just two teenage girls who possibly consented to having sex with an older man (if that was even legal — which it isn't). The victims were dozens of girls who were manipulated, exploited and pressured into a sexual relationship that they legally, mentally and emotionally could not be prepared for and R. Kelly did not — R. Kelly does not — care one bit.
DeRogatis is reasonably enraged at the toothless media coverage that's surrounded R. Kelly for the past 15 years. He famously fought with Pitchfork over their decision to have Kelly headline their festival in 2013 and even called out Jezebel for being unexpectedly flip about the songs off Kelly's newest album. (I myself once did a light-hearted write-up of R. Kelly's autobiography Soulacoaster. For my part, I am ashamed and deeply sorry, though I know that doesn't mean much.)