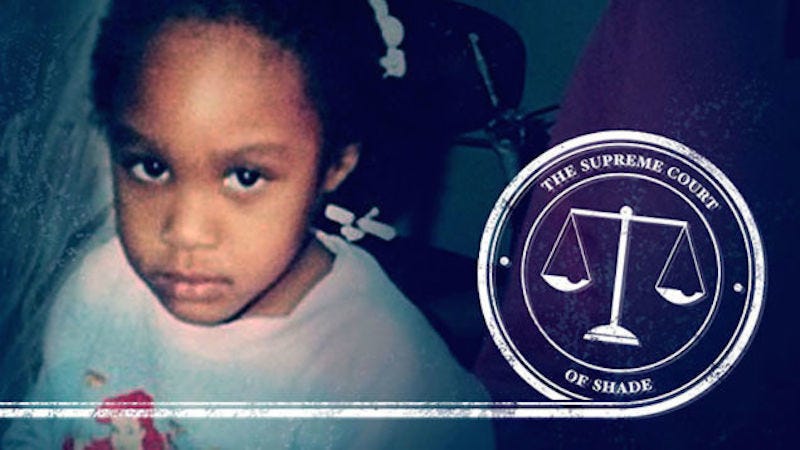 Some days I look at the young, fresh-faced, curmudgeonly child in the photo above and wonder: how is it possible that she is now 367 years old? Then I remember Donald Trump is president and people still don't know how to use shade correctly. Life is long and it's even longer when everybody has lost their goddamn mind.
In this week's Shade Court, dudes be fightin', nobody is Team Rory and E! News is cancelled.
Shade Court Docket #2017JZ000024

The Case: Drake and Kanye West are what those of us who were teens in the early 2000s call "frenemies." It seems like they sort of like each other, but mostly don't, though they are willing to come together if there's an opportunity for more fame and money.
In a recent interview, Drake complained about Kanye's erratic friendship and the apparent shit-talking Kanye has done in the past.
Kanye has been a lot less vocal since suffering an alleged breakdown and spending time in hospital, but Drake notes, "Whatever it is that you're going through, I accept it. I don't respect it all."
Hmm. Ok.
I think I understand what he's saying even though he didn't say it very well. Was Drake perhaps trying to make a salient point about how we shouldn't conflate Kanye's asshole behavior—of which he has a long history—with his apparent mental illness especially since none of us know him and we're not his doctors and it paints a reductive picture of what mental illness looks like? Maybe!
More likely, I believe Drake is saying he understands Kanye is going through some issues but that doesn't mean he can't be upset about all the negative things he's said.
Drake continued, addressing their 2016 single "Pop Style," which no one remembers. There was some behind the scenes drama with the release of the song due to their conflicting deals with Tidal and Apple Music.
"It just became a bit of an issue," Drake said, explaining his line of thought during the process. "When Kanye comes out to do it at the shows, it goes crazy...He was pretty upset. At that time, we were working together pretty heavy. And he wanted to be on the record."
The Defendant: Marie Claire
The Evidence:
The Deliberation: Clearly this is just Drake complaining about his frenemy and none of this is shade. So let's briefly pivot. I'd like to point out this post ends with the line:
So, yeah. Weather report = shady ⛅.
So, yeah. What???? Yeah what???? You have proven exactly nothing.
Birds are flying through the sky today. So, yeah.
I had polenta for dinner. So, yeah.
Hippopotamus. So, yeah.
The confidence on display here is honestly a marvel. Drake didn't say anything that could possibly be construed as shade and you have the nerve to end this with a mic drop and exactly no breakdown of how this might be shade? I won't even comment on the weather report pun because NOT IN COURTROOM FIVE OH TWO.
Drake complaining about Kanye or Kanye complaining about Drake should no longer be a headline. It's not like you turn on CNN and hear: "Good morning, after much anticipation all night, the sun did indeed rise today. I'm Wolf Blitzer, and I'm entirely unhelpful."
Though, now that I think about it, maybe we should.
The Ruling: Not shade
Shade Court Docket #2017JZ000025
The Case: Before anyone starts with me, I know Chrissy Teigen isn't being accused of shading pizza, but as you will see, my inability to figure out a better photo selection is the least of our worries.
Earlier this week, a Twitter account you don't follow tried to ruin everyone's day with this inane tweet:
The Defendant: Elite Daily
The Evidence: