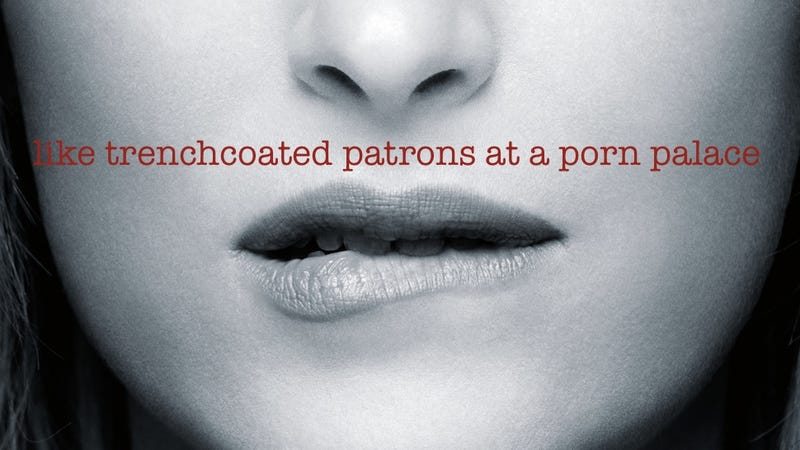 On Thursday night, the eight most masochistic members of the Jezebel staff attended the same screening of the endlessly harped-upon film adaptation of Fifty Shades of Grey. All eight of us lived to tell the tale. In fact, to our collective pleasant surprise, it wasn't even really that bad.
Because we were all well-aware of the sort of misery an undertaking like this could bring, we took precautions. Tickets were purchased for a showing at a theater that allows patrons to reserve seats, and thus nobody on staff had to stand outside in a line full of horny moms and smarmy hatewatchers in the freezing cold. Rather than collaborate on a single review, we split responsibilities, each focusing on one crucial aspect of the film. This prevented any single one of us from becoming overwhelmed by the source material's unique blend of sexual cheesiness and nuclear stupidity. Third, we drank. Probably not as much as we should have, but we did our best. And here's what we experienced.
The Romantic Leads- Madeleine Davies
Unlike on their press tour, Dakota Johnson and Jamie Dornan did not come off like they hated each other in the Fifty Shades movie. Rather, they seemed like two cousins (and not the Les Cousins Dangereux types) who were accidentally cast as romantic leads and felt very uncomfortable about it. Johnson, to her credit, gave it her best shot—she held longing eye contact and made the best of Anastasia's horny lip chewing like a total pro, but the chemistry simply wasn't there. I'm sad to say (because I love him) that the fault lied primarily with Dornan who seemed far too distracted trying to keep up his accent (which he did great work with, assuming Christian Grey is supposed to be mostly Irish and sometimes—puzzlingly—Dutch) to even begin engaging with another person. As such, chemistry was instead demonstrated through a lot of heavy breathing (Johnson) and panicked wide-eyed staring (Dornan).