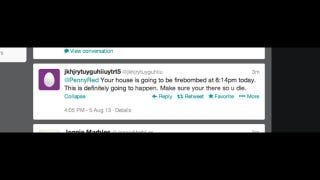 Prominent British feminist writer Caitlin Moran spearheaded a symbolic day of "Twitter silence" last Sunday to protest the rape and bomb threats a number of high-profile UK women recently received after suggesting Jane Austen be featured on a £10 note. (Misandry!!!) It turns out that giving bullies what they want — silence — only leads to more death threats and a whole lot of ineffective infighting.
Here's a quick recap of what #twittersilence is all about (check out the Guardian's coverage for more): after journalist and women's rights advocate Caroline Criado-Perez successfully campaigned to put Jane Austen on the next £10 bank note, she received dozens of tweets from strangers who said they planned to rape and/or kill her. When Labour MP Stella Creasy voiced support for Criado-Perez, she was subjected to more of the same; Historian Mary Beard also received a bomb threat.
Tony Wang, general manager of Twitter UK, tweeted that the abuse was "simply not acceptable" and pledged to do more to protect users. That's nice. But the internet has been a scary, shitty place for women and other marginalized groups since long before the Austen drama. How do you deal with anonymous trolls who say they want to rape your corpse? Twitter said it planned to add extra staff to the teams that handle abuse reports and expand access to its new "in-tweet" report abuse button. But that's not a quick-fix solution, either; trolls know how to click buttons, too, and — if Facebook's apparent lack of interest in cracking down on hate speech is any indication — big tech companies suck at identifying harassment.