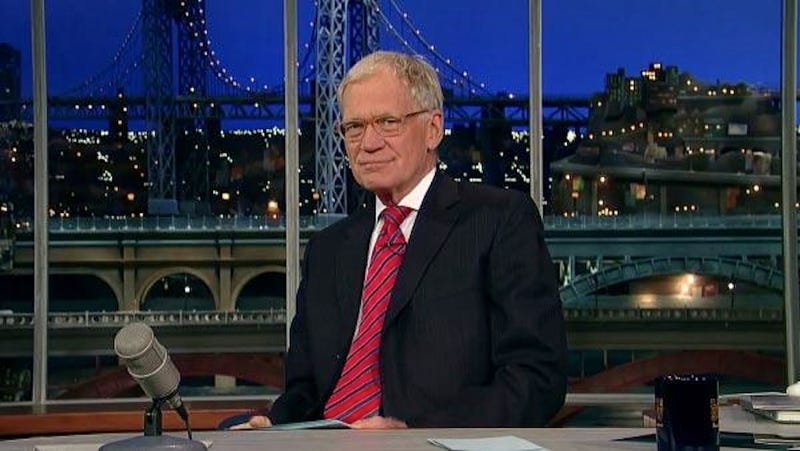 Big news on the late night front: David Letterman is retiring in 2015. Big news! That means a coveted and rare spot is opening up in the dude party that is late night TV. Could it be that the time has finally come to let a woman sit behind a desk and ask guests questions about movies they're promoting on shows that have sets painted to look as though it is perpetually night? MAYBE!
But before we get ahead of ourselves, a bucket of ice cold realism water: David Letterman is almost certainly not going to be directly replaced by a woman, because no network late night shows are currently hosted by women, and The Late Show is kind of an end-of-the-line gig that people slide into from other shows. If past network behavior w/r/t late night shows is any indicator of what CBS will do with Letterman's slot, in all likelihood, Kimmel will get pushed into The Late Show (unless they hire someone from elsewhere, like Jon Stewart, whose contract is up for renewal at the end of this year, or Stephen Colbert, who has now been hashtagged right into being the rumored frontrunner for Letterman's job or any of the host of other male comics who host or recently hosted late night shows elsewhere — Pete Holmes, Conan O'Brien, W. Kamau Bell etc). But what could happen, and what I hope happens is that in the old guard shift, a woman at least gets in line. If Kimmel moves up, maybe a woman who has proven an able host will be handed the reins of a network late night show. Crazier things have happened (just not on TV. Yet.)
So, without further ado, and because by tomorrow, every single woman-focused ladysite in the ovonet will have done it (and in the tradition of Letterman's signature bit, one of many that doesn't require him to get up from his desk), here's a list of 10 women who, based on their already-existing body of work, have proven they could host a late night show, and who it would be wonderful to see in the running for a big time job once another old guy gets out of the way. This is by no means all-inclusive, just the first people who came to mind. If you see any glaring omissions of women with comedy chops and a long enough resume to impress network brass, by all means add your two cents in the comments.
10. Julie Klausner
Her popular How Was Your Week podcast is funny and warm and smart. Her writing is wicked and sharp (I Don't Care About Your Band made me laugh so hard I cried). And she's got plenty of experience on camera. She might not be a household name, but Klausner's got the sort of pluck that could win America over.
9. Amy Schumer
Lots of late night shows are incorporating sketches into the mix, and Schumer kicks ass at sketch comedy. She's also had a fun, easygoing rapport when she's appeared as guests on other programs. Untested as a TV host? Yeah. But worth taking a chance on.
8. Maya Rudolph
The SNL alum hasn't been as culturally ubiquitous as her fellow alumnae Amy Pohler and Tina Fey, which is a shame because Rudolph is so versatile and funny. How fun would it be if a Maya Rudolph-hosted variety show aired late nights instead of the typical guy-behind-desk format?
7. Nikki & Sara
Nikki Glaser and Sara Schaefer cohosted a late night talk show on MTV that ended its criminally short run last year. The two have excellent chemistry, and the time they freaked out over Justin Timberlake is still one of my favorite recent talk show moments. That the show got cancelled was a travesty. Reinstating them in late night would (partially) remedy that.