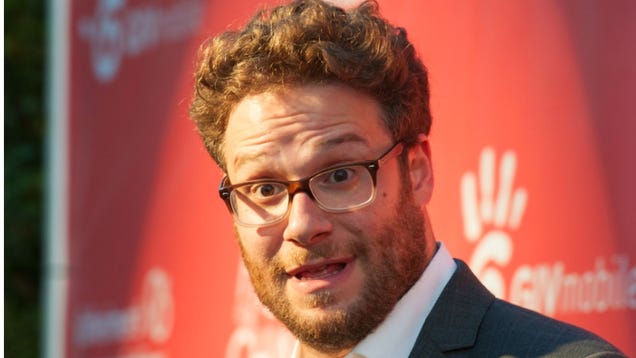 In today's edition of Tweet Beat, Seth Rogen got hit in the testicles by a dildo, LL Cool J chuckles to himself, and Robin Williams tweets the best conceivable response to Kim Kardashian's Met Gala dress.
I actually just got hit in the balls by a dildo.

— Seth Rogen (@Sethrogen) May 8, 2013
Lol.

— LL COOL J (@llcoolj) May 8, 2013
I think I wore it better! twitter.com/robinwilliams/…

— Robin Williams (@robinwilliams) May 8, 2013
Whenever I see a guy with a really huge penis, I always yell, "Sorry about your car!"

— Al Yankovic (@alyankovic) May 8, 2013
In a completely non sexual way. I've realised what was missing in my life last year was not "a man" it was women. Plural.

— IGGY AZALEA (@IGGYAZALEA) May 8, 2013
Mel Brooks & I just watched and enjoyed Breaking Bad and cannot believe that we missed seeing this great, great series when if first ran.

— carl reiner (@carlreiner) May 8, 2013
I'm more shocking news, there's a woman on the train next to me with a discman! A discman! Who is she, Florence fucking Nightingale?!

— Colm Tobin (@colmtobin) May 8, 2013
Oh froggy did a- courtin' go, uh huh. He spent the night on my bedroom slider. But I said Not tonight, dear. twitter.com/judyblume/stat…

— Judy Blume (@judyblume) May 8, 2013
Don't be afraid 2 think outside the Box becuz every1 else is doing the same thing! Create something new u don't have to fit in! Just BE U!

— Missy Elliott (@MissyElliott) May 8, 2013
I would go to a lot more raves if they featured less orgiastic dancing and more quiet sitting at home, smelling fresh-baked banana bread.

— Michael Ian Black (@michaelianblack) May 8, 2013
Hip Hop Will Never Be The Same Again - mykki b

— MYKKI BLANCO (@MykkiBlanco) May 8, 2013
If there was a line you could stand in to not see The Great Gatsby I would want to be the first one in it.

— Andy Richter (@AndyRichter) May 8, 2013
Justin Bieber is our Joffrey.

— Moshe Kasher (@moshekasher) May 8, 2013
what is your purpose? are you a poser? is posing your purpose?

— frank ocean (@frank_ocean) May 8, 2013
don't answer me. i'm not your purpose.

— frank ocean (@frank_ocean) May 8, 2013
I love how more & more people are becoming aware of the importance of marriage equality. Now they're more than just aware. They're Delaware.

— Ellen DeGeneres (@TheEllenShow) May 8, 2013
When a strike rat is by itself, it kind of looks like the rat is the one on strike. #staystrong #lonelystrikerat twitter.com/wyattcenac/sta…

— Wyatt Cenac (@wyattcenac) May 8, 2013
Cher,"OMG !!!!! SIT DOWN !!!!!! Ru Paul invited mom on the SHOW ! Whoa !!! Should I Just Quit my Job & Manage MOM !?!?

— Cher(@cher) May 8, 2013
SUE HIM RT @shannonbasinski My attorney just starting singing @joshgroban... He got the words wrong..

— josh groban (@joshgroban) May 8, 2013
Made a new friend at the @kcmo airport. I'll tell Seamus you said hello. twitter.com/billclinton/st…

— Bill Clinton (@billclinton) May 8, 2013
Image via Getty.