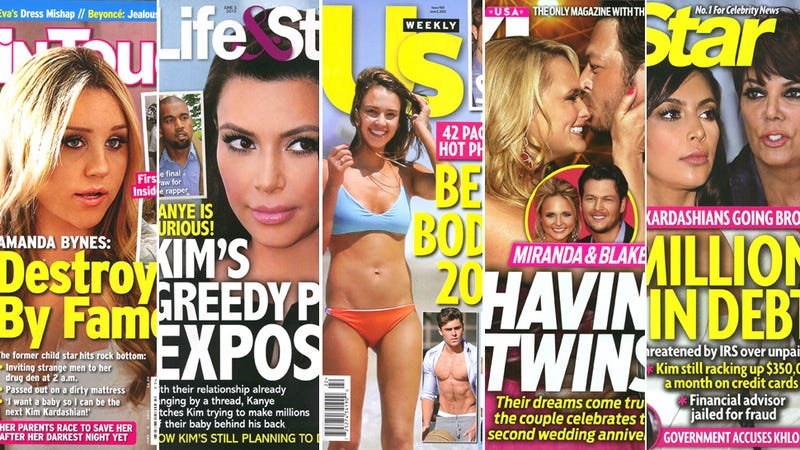 Welcome back to Midweek Madness! Every Wednesday, we send Kristine Gutierrez to the newsstand to pick up the new issues of In Touch, Us, Life & Style, Ok! and Star in hopes of getting high on celebrity news. This week, Lindsay Lohan's drug dealer talks about dropping her as a client; the Kardashians are millions of dollars in debt and a lot of it is from car loans; and photographers went inside Amanda Bynes' apartment and documented some weirdness. Ready to take a hit?
---
Ok!
"Miranda & Blake: Having Twins!"
Miranada Lambert and Blake Shelton are NOT having twins, but they want to, and all rich celebrities' wishes come true, so. Miranda is NOT pregnant, but the sheer determination of the couple to stay together despite Blake's playboy behavior, blown-out-of-proportion drinking habits, and busy schedule — plus a twin-inducing diet — will guarantee that the stork will bring a pair of babies. In other pregnancy news, Selena Gomez eats like a pregnant woman when she's on tour. All she wants is pickles and ramen. America Ferrera finally received her BA from the University of Southern California after 10 years of school and acting. Congrats! Angelina Jolie is allegedly producing a documentary that details her double mastectomy. In creepy news, Miranda Kerr gave Jennifer Aniston a bridal gift of lingerie that is "hand-stitched...virginal white." Ew, virginal white sounds as sexy as menstrual red. In general news: Jennifer Lopez is convinced that Casper Smart is her man, and will marry him; Adam Levine's mom hates his tattoos.
Grade: F (low)
---
Life & Style
"Kim's greedy plot exposed"
Kanye West is going all Kanye over rumors that Kim Kardashian has a secret plan to sell pictures of their newborn baby to tabloids. It's also a rumor that he went 'Ye all over the rumored rumor. Point is, Kim likes cashing in on all her private escapades, but Kanye is all like: "I moved my family out the country so you don't know where we stay." Apparently Kim will make the baby pic appear to be a paparazzi shot. Oh, and there's a Jezebel.com shout-out for our investigative work. Anyhow, why won't Liam Hemsworth leave Miley Cyrus? Because she is too emotionally unstable, and he does not want to cause more instability. Kate Middleton has picked the Royal Berkshire to give birth to her royal child. Her room will have mood lighting and all medical equipment will be concealed. Did Justin Theroux get botox to prepare for his wedding? No, but great question! End scene. Both Britney Spears and Mariah Carey have lost a lot of weight, so congrats? One more person lost weight: Robert Pattinson. He shed the dead weight that is Kristen Stewart. The final straw was when KStew got in a car with a dude that looks like her former Snow White and the Huntsman director and lover, when it turned out that the dude was a valet driver.