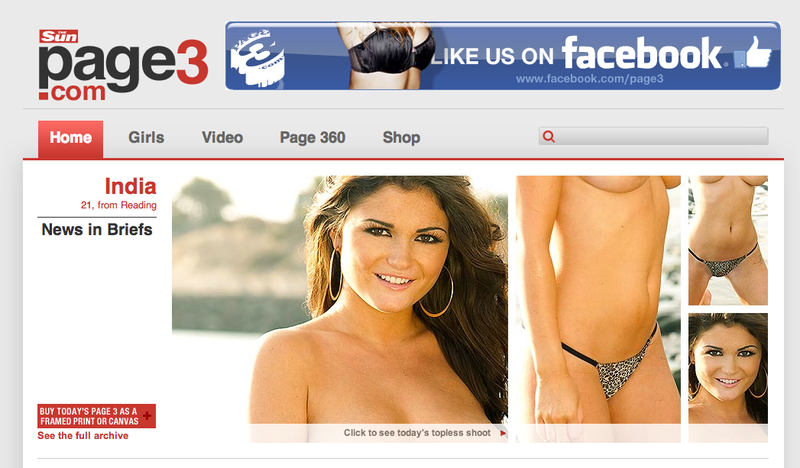 Most people prefer their news with a side of naked women, so it's a total surprise that the British paper The Sun has come under fire recently for it's section Page 3, where it regularly features topless ladies looking finnne.
David Dinsmore may have just started as editor of The Sun, but he's already encountering hate from people who'd rather not grapple with a little nipple every morning. According to The Guardian, Dinsmore went on the radio station LBC 97.3 (London's Biggest Conversation!) Wednesday morning to state for the record that he would not be getting rid of the section, despite outside pressure to do so, because it doesn't make good business sense:
"Page 3 stays. We did a survey last year and found that two thirds of our readers wanted to keep Page 3. What you find is people who are against Page 3 have never read the Sun and would never read the Sun."
What is Page 3, besides half-nudes? It isn't like the New York Post's Page Six, which is devoted to gossip and not entirely fixated on naked women, though the two might equal each other in terms of their popularity with some groups and how much they're reviled in others. Page 3 is a stand-alone site on the web, but in paper form features topless women amongst other more hard-hitting news, sort of like Playboy, but daily. The legacy of the page started with the soon-to-be single media magnate Rupert Murdoch, who began featuring women in bikinis in 1969. When he appointed editor Larry Lamb to run the paper only a year later, Lamb chose to feature topless women, which allegedly angered Murdoch, until he saw sales rise. Murdoch's had mixed opinions about the section ever since; in February, he tweeted that he might get rid of it.