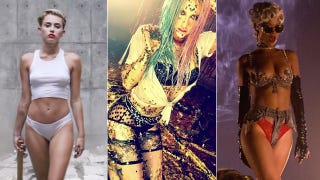 Miley Cyrus in a thong. Ke$ha in a thong. Rihanna in a thong. Lady Gaga in a thong. Miley Cyrus in pasties. Nicki Minaj in pasties. Miley barebreasted, Rihanna topless. The young women on today's pop charts are stripping down, right before our eyes. And you know what? It's not very interesting.
As Maureen O'Connor points out in a post on The Cut, the new pop star uniform is simply a thong. Exhibits one, two, and three, below from left to right: Miley, Rihanna, Ke$ha.
While I have criticized Miley Cyrus over and over again, it's not for being scantily clad. If she wants to show off her body, she has the right to. It's something the dudes have done for a long time — there's even a Tumblr, Classic Shirtless Rock Stars, featuring guys like Robert Plant, Alice Cooper, Roger Daltrey, David Bowie, Jimi Hendrix and so on. Obviously we live in a culture where a shirtless man is not as risqué as a shirtless woman; female nudity is more provocative, and the female form as sexual object is an omnipresent reality in the Western World.
But while women in music have been baring more and more — remember when Cher's sheer bodysuit was a big deal? Remember when Madonna's nudity became standard operating procedure? Remember "Dirrrty" Xtina and "Toxic" "Slave" Britney? — we're at the point now where it feels very been-there-done-that. Ok, you're confident and proud of your body. What else ya got? Those Terry Richardson photos of Miley — in which she shows off her buttocks and hairless mons pubis — are not truly shocking. (As one of my coworkers pointed out, it would be shocking if Miley was rocking a giant bush with that front-thong.) Because at this point Miley would have to release close-ups of her clitoris or give us a laparoscopic tour of the inside of her vaginal canal for us to see something we haven't seen before.