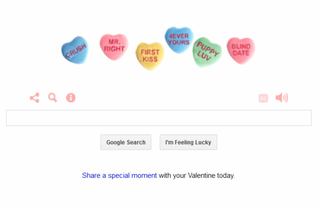 Today's Google Doodle in honor of Valentine's Day is as sweet as you might expect, but thanks to some help from This American Life, it's particularly sentimental.
USA Today reports the six candy hearts you see on Google's home page each take you to a special love-themed story. (Dwahhhh. I'm already getting mushy!)
Google's Jennifer Hom on the Doodle team says the project began a couple of months ago when This American Life host Ira Glass visited Google. Glass and his team contributed some archival audio clips and came up with some new ones for the Doodle project. The idea: To portray love in a host of different "incarnations."
Check out a couple of the selected stories:
"Crush" tells the story of a teenage girl who says she has "had a crush on this one guy for four years." She says: "This one time I sneezed … and he goes, 'You know, you have a really cute sneeze.' ... I was all day on that sneeze comment. I must have told every one of my friends."

In "Mr. Right," a woman speaks of waking up the morning after her wedding day with a heavy heart and doubts about her decision to marry. She walked "all day long" to clear her head, worrying her brand new husband. "That was 42 years ago, and since then, I have never questioned."
They really are all very sweet and nothing that will get your eyes rolling too far into the back of your head, even if you are one of those totally jaded anti-Valentine's Day people.