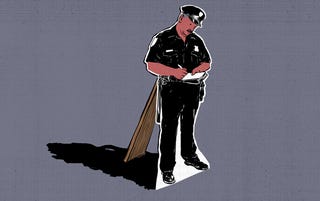 I. "Hey Anna, do you like pizza?" I was just sitting down to dinner one evening this past November when I looked through some new Twitter notifications on my phone. My night, I realized regretfully, was about to get very, very stupid.
The Twitter user was named "Davidkalac69," the photo a white egg on a purple background. Over the next few minutes, he tweeted at me a few more times:
"Are you vegan/vegetarian?"

"anna please respond these questions are very important"

"for gods sake anna I'm not asking much"
And finally:
"lets trigger some bitches"
A few minutes before the tweets started, I had gotten an email from Domino's, letting me know that my pizza order was ready, payable with cash upon delivery. I'd shrugged it off as a glitch in their ordering system. I hadn't ordered a pizza, and the address listed on the order was an apartment I hadn't lived in for a while.
Now I looked at the Domino's email again. It was completely nuts: Two large pies, one with triple cheese, triple sausage, triple salami, triple barbecue, hot sauce, half onions and half pineapple, the other with no cheese and triple sausage, plus a large bottle of Coke. Nothing I—or anyone with functioning taste buds—would ever order. The total was nearly $50.
I snorted with disbelief: I was being 4channed.
At this point, you've almost certainly heard of 4chan, specifically /b/, an anarchic message board and troll haven known for pulling pranks. Sometimes they're pretty funny: hijacking a Mountain Dew poll to name a new drink "diabeetus," gaming an online contest to send cheesy rapper Pitbull to Alaska. (Important note: while 4chan appears to have contributed to the voting on that contest, the actual people who came up with the prank, Boston Phoenix writer David Thorpe and Something Awful's Jon Hendren, are in no way affiliated with 4chan). Sometimes they're cruel: /b/ users famously mocked the family of a kid who'd committed suicide, sometimes calling his parents pretending to be him and taunting them: "Hi, I'm Mitchell's ghost, the front door is locked. Can you come down and let me in?" Sometimes they're dangerous: In 2012, their pizza-pranking led them to send a delivery person to where Chris Dorner, the ex-LAPD cop on a killing spree, was barricaded.
And sometimes they're criminal: 4chan is where hacked nude photos of various actresses were posted this summer. It is also where a Washington man confessed to murdering his girlfriend this past November and posted pictures of her nude, garroted body.
The name of that confessed killer was David Kalac—the name the pizza lover had chosen to tweet at me.
It was a blog post I'd written earlier in the day that drew /b/'s attention. Its users had been flooding Time magazine's annual reader poll of words that should be banned, voting for the word "feminist." I'd written up their ballot-stuffing efforts and called the board (gently enough, I thought) "the Internet's home for barely potty-trained trolls."
So now I was getting to see them in action. In a few minutes, someone who wanted to warn me sent me a link to where the 4Chan crowd was rowdily discussing their plans for my evening. (Over the course of the night, they kept nuking their threads and creating new ones, three or four before the night was over.) They were racking up food orders: sushi, Chinese food, Middle Eastern, orders usually totaling $60 or $70, all of them payable on delivery. Many people posted their receipts.
A lot of the food had bacon or ham in it. I'd wondered why, then realized I've tweeted in the past about being Jewish. (I'm not observant and pork products don't shock me, but they didn't know that.) When the food orders got boring, /b/ considered other ideas: Should they send me vacuum cleaners? ("That's not even a shit gift," someone complained.) Sign me up for tons of mailing lists? How about rape?
One of them decided he should post a Craigslist Casual Encounters ad, to get people to come to my house for sex, preferably "large black men."
"Tell them she's into serious rape roleplay," someone suggested.
"I would seriously rape her," another volunteered
"Actually raping her is a little much, anon."
It was good to know they had a floor. Not much of one, though. Pretty soon, they settled on their favorite idea yet: swatting. That is, they wanted to make a fake distress call to get the police, the fire department or—best of all—an entire SWAT team called to my house, expecting an armed confrontation.
"Someone from NY, send the police her address (say she is planning to shoot a school to support feminism) and make it snappy."
"Someone said they called the PD from a payphone in California and they just laughed at them."
"We need to get sand nigger food to her house first. We want the cops to freak out and start shooting."
I emailed my editor and Gawker Media's lawyers, who suggested I call the police. I called my local precinct in Brooklyn, who told me I'd need to come in to file a report. I was most worried about the people living in my old apartment and asked if someone could do a welfare check there, but an officer told me that wasn't possible. I checked Twitter accounts for the police scanner and the FDNY a few times to make sure there was no major disturbance in that neighborhood. Seeing nothing, I decided to leave going to the police for the next day.
I also checked Craigslist briefly for posts about giving an unwilling Jewish writer the raping of her life, but didn't see anything there either. By this time, someone had jumped into a thread pretending to be me: "I have some friends who know their fair bit about hacking. Get ready for your IPs to be backtracked and sent to the Internet Police."
An hour passed. 4Chan started getting restive.
"More then 2hours and no tweet about all the shit weve [sic] done," one complained. "Is the bitch dead?"
"Probably buried under a pile of pizza boxes," someone else suggested.
Around midnight, they gave up. I went to bed, waking up in the night to reach for my phone and look at my Twitter mentions one more time.
"I'd like to rape you" a new message read, from another egg. Half-asleep, I took a screenshot, blocked him and went back to sleep.
II.
At this point, so many female writers have been threatened online that it's spawning its own new type of journalism; call it "harassment lit." There's Amanda Hess, who was vacationing in Palm Springs when a man tweeted that he had a previous conviction for manslaughter, and was coming to her house to "rape you and remove your head." There's Rebecca Watson of the science blog Skepchick, threatened by a commenter who lived three hours away and had a previous conviction for domestic violence. There's feminist journalist Jessica Valenti and programmer Kathy Sierra. There's former Jezebel writer Lindy West, who recently interviewed one of her most vicious trolls on This American Life, and Gamergate target Anita Sarkeesian, who recently posted just one week's worth of her Twitter mentions, a cavalcade of cruel, violent, degrading insults and threats.
You don't even have to have written extensively about feminist issues: Kelsey McKinney, a reporter for Vox, started getting threats after she wrote one piece about the celebrity nude photo hacks. It's never really subsided.
"I am threatened with rape, mutilation, and physical harm more than ever thought I would be," she wrote in an email. "I get emails that describe how the writer wants to find, rape and murder me. I get emails that have my head photoshopped onto porn stars bodies, or dead animals, or brutally hurt women." She gets two or three a week, usually under innocuous subject lines like "Read your piece" or "Just saying hello."
Then comes the part of the harassment lit story where you go to the police and nothing happens. ("What's Twitter?" the responding officer asked Hess). McKinney called the cops after someone sent her a photo of the house she'd grown up in. "I haven't lived there for years and my parents have since moved, but it was terrifying."
It was not terrifying enough to interest law enforcement. "They told me they couldn't possibly know what the picture meant," McKinney said. "I told them it was obviously a threat meant to intimidate me. The officer on the phone told me to calm down. I could not calm down. Since then, I don't bother calling."
Now it was my turn to try the police. The morning after /b/ had deluged my old apartment in takeout, I went with Kavi Reddy, one of Gawker Media's attorneys, to the police station near our offices in NoLIta. I went partly out of caution, and partly out of curiosity: in situations like mine, what options did female writers even have? I brought a notebook and some screenshots of the 4chan thread.
Right away, the situation proved difficult to explain. "I think I've heard of 'em," Officer Rao, the NYPD officer who met us at the front desk said of 4chan. He'd heard about the naked actress photos. He frowned. "But do we know where they physically are? We need physical locations."
We didn't know where they were, we explained.
"Who's the perpetrator?" he asked, trying again. "Who's the one doing this?" He looked at my screenshots and shook his head. "What's the point of this?"
"To harass me," I told him. "And to prove they know where I live. To scare me."
Rao nodded. The situation, he told me, was difficult because "it's not cut and dried, like, you know, we dated, then I call her up and threaten her. There'd have to be IP addresses pulled."
We'd filed another report only a few months back at the same precinct, for another Jezebel writer. Reddy asked if Rao could pull it up. He turned on the computer and patiently waited for it to load. He searched the writer's name, waited some more. Suddenly, he reached over, grabbed the cords connecting the computer to the wall and gave them a hard tug.
"You gotta shake them every once in a while to make it work," he told us apologetically.
In the end, Rao told me I'd have to go to my home precinct in Brooklyn to file a report, since I had received the threats at home (That is, I'd been at home on my laptop when I read them).
"I don't want to take the report and have it get pushed aside," he explained. "It's stalking and aggravated harassment. But with an unknown perpetrator, we'd have to close it right away."
Reddy asked if he could call the precinct where my old apartment was located and make them aware of what was going on, something the NYPD has been able to do in similar situations with Gawker writers in the past. Rao said it would be better if we sent the new residents a letter.
I got to my home precinct around 8 p.m. that night. (I'm not identifying the precinct in the event that it might make it easier to find my address.) The station was empty except for two police officers at the front desk and a senior police administrative assistant in a side room, a woman in her 60s, who looked at me sourly when I tried to explain why I was there.
"Have you heard of 4chan?" I asked.
"No," she said. Her radio was playing an oldies station at top volume. She didn't bother to turn it down. She looked at me skeptically as I tried to explain what had happened, her mouth twisted. It occurred to me that she probably thought I was mentally ill. I handed her the screenshots I'd taken of the /b/ chatroom and pointed out the words "rape" and "swatting."
"I have to show these to a detective," she said.
"Okay," I replied.
"You can't come with me," she added sharply. I hadn't moved.
She was gone about 20 minutes; when she returned, she had a Detective Hunt in tow.
"This is, at most, harassment," he told me. "It doesn't take a genius to figure this out. It's more bark than bite. And anyway, these are Canadian phone numbers and we can't trace them." He was referring to some links embedded in the chat, which did sort of look like phone numbers, in that they were strings of numbers.
If anything else happened, Hunt said, "You can always come back and file more." In the meantime, he added, "Just don't go on those websites."
I asked if someone would be able to go to my old apartment and make sure whoever lived there was all right.
"They have to file their own report," Hunt said. He added that the officer who didn't want to take my report in Soho was "probably just lazy."
The administrative aide allowed me to fill out a report for aggravated harassment. She declined to give me her name, telling me it would be available in my police report. (I was able to find her name, but won't print it here—to protect my own privacy , not hers.)
I got my report last week; in my statement, I'd written about three-quarters of a page, detailing the food orders as well as the threatened swatting and rape. Here is what the administrative aide wrote down:
The victim stated that she had been receiving annoying and harassing messages via twitter, email and 4chan wedste [sic]. The victim was sent an order of food at her previous address.
Elsewhere on the report, my first name was misspelled.
III.
In the end, what happened to me wasn't a particularly big deal: it was a single night, and has yet to repeat itself. But there's nothing to prevent it from happening again, and when it does, my options will continue to be pretty bad, even with a powerful media company and talented attorneys behind me.
Technically, threatening someone online is just as illegal as doing it over the phone. But in practice, it's been hard for cops and courts to separate what constitutes a true threat online from what's protected as free speech. The Supreme Court is preparing to take up the case of Anthony Elonis of Bethlehem, Pennsylvania, who was convicted of making threats across state lines, a federal crime.
Elonis wrote a series of Facebook posts—"rap lyrics," by his account—in which he fantasized about killing his ex-wife. One said he "wouldn't rest" until she was dead, "Soaked in blood and dying from all the little cuts." Later, after she'd gotten a protective order, Elonis wrote: "Fold up your protective order and put in your pocket. Is it thick enough to stop a bullet?"
He also posted about being ready to "make a name for myself" by shooting up an elementary school. After a female FBI agent visited him at home about that one, he wrote a new lyric about her:
Little agent lady stood so close

Took all the strength I had not to turn the bitch ghost.

Pull my knife, flick my wrist, and slit her throat.

Leave her bleedin' from her jugular in the arms of her partner.
Elonis appealed his conviction, on the grounds that he had merely been expressing himself. Although he only started claiming his Facebook rantings were "rap lyrics" after the FBI got involved, his case still captures the knotty questions about online harassment: What is free speech? What's an actionable threat? How do we draw the lines to protect speech, but also allow some legal recourse for people who are being terrorized?
The best overall guide we have is the "true threat doctrine," which defines threats as statements that "a reasonable person would interpret as a real and serious communication of an intent to inflict harm." But that's vague, to put it mildly, and it has been inconsistently applied by different courts. Danielle Citron, an attorney and law professor who has called for better enforcement of online harassment laws, says she hopes the Elonis case will clarify what a "true threat" actually means.
"We bend over backwards in the United States—and we should—to protect and provide breathing space for free speech of all sorts: offensive, profane, irritating," she says. "We want to provide breathing room for public conversation. But when it comes to expression whose raison d' etre is to silence other people, to ruin reputations, to terrorize, we should be less anxious about silencing that."
What counts as being terrorized? The culture around 4chan is willfully obtuse on that point. Sending pizza is a prank, right? A prank that demonstrates you know (or think you know) where your online target lives in real life. Then you choose to send the pizza under the name of someone accused of an actual murder—someone who was a participant in your own online community. The victim was sent an order of food. The real David Kalac apparently had believed the audience for lulz would appreciate seeing his girlfriend's dead body. What did the fake David Kalac believe?
At some point, you have to consider the numbers. I'd been working in alt weeklies for years before I came to Jezebel in October 2014, and nothing had prepared me for the volume of harassment that comes with joining "women's media." Individual writers and the Jezebel staff as a whole get both threatened and deluged with foulness on a regular basis; Gawker Media redesigned our commenting system last year to deal with an onslaught of violent images in Jezebel's comments, many of them involving female corpses and depicting unspeakable violations.