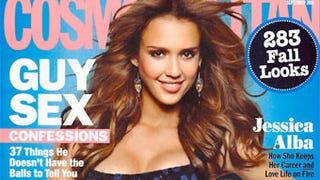 The May issue of Cosmopolitan featured four stencils for your pubic hair. Now, the brand-new September issue has a HUGE coverline which yells, "Untamed Va-jay-jays: Guess Which Sexy Style Is Back." Lord.
Last night on Lopez Tonight, the cast of Jersey Shore played an enlightening game of "I Never" with Kathy Griffin. Among things, we learned that all of them have hooked up with someone famous, and that Snooki has been vajazzled.
responding to a reader's request that he weigh in on the supposed trend of "vajazzling". [WCP]
Inspired by Katie Couric's on-air colonoscopy, today Kathy Griffin will film herself getting a pap smear to raise awareness about cervical cancer. Unlike Couric, Griffin's exam will be performed poolside, and she's "vajazzled" her lady bits for the occasion.