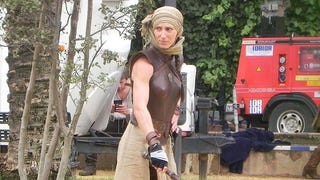 Readers of George R.R. Martin's novels will be excited to see the legendary Sand Snakes appearing on Game of Thrones this spring. But some people's enthusiasm was slightly tempered when the first set photos of the Sand Snakes appeared, revealing... armor with nipples. Costume designer Michele Clapton says this was a…
Season four of Game of Thrones contained some major departures from the books — and some of them underscored just how much Bran and Arya Stark no longer want or expect to be rescued. We caught up with Isaac Hempstead-Wright and Maisie Williams at Comic-Con, and they told us why things are only going to get murkier.
Last night's Game of Thrones had a lot of scenes where people tried to consolidate their power. Some people make alliances, others bully their followers, and still others try to send their enemies on suicide missions. When your hold on power isn't secure, you have to be crafty and ruthless as fuck. Spoilers ahead...
Game of Thrones comes back to television in just a few weeks, and already we're feeling the imperative: All Men (And Women) Must Freak Out. But why is Game of Thrones such a huge cultural phenomenon, among all other fantasy series? It comes down to two huge cultural trends, that are rooted in our widespread anxieties…