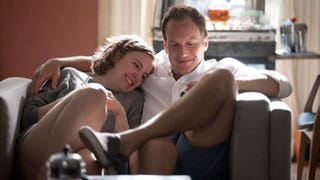 You may recall the Patrick Wilson/Lena Dunham Internet Hullabaloo of Early 2013, during which skeptical viewers raged that "Hotttt Patrick Wilson would never hook up with a Fatniss Everdeen like Lena Dunham." We took, um, issue with that. So did Dunham, and so did Patrick Wilson's wife Dagmara Dominczyk, who killed…
22-year-old Australian actress Mia Wasikowska is one of the two actresses being considered to play acerbic District 7 tribute Johanna Mason in the Hunger Games trilogy, a character who appears in both Catching Fire and Mockingjay and is more or less side by side with Finnick Odair as the most important bit of upcoming…
In this week's compilation of pop culture crap, Always Sunny puts on the world's worst child pageant, Martha Stewart disrespects her Louboutins, and Cheryl Hines is your stereotypical suburban Mom.
Do you think the orange glow of their skin is actual spray-tan, or something that was added in later in the editing…
If a man cries, he fears it will earn him ridicule—unless it's for a film role, in which case it could earn him an Academy Award. Here's a thorough supercut of boys who do cry. Ready your tissues.
Today in Tweet Beat, model Jessica Stam thinks her place is overdecorated, Weezer's Patrick Wilson talks shit, and Courtney Love explains what happened to her "K" (for Kurt) tattoo.
[New York, June 24. Image via Flynet]
Jennifer Love Hewitt, whose womanly allure has been well chronicled, is no slouch in the dating department. She's been linked to hotties near and far, including talk show hosts Craig Ferguson [Yum. -Ed.], and Carson Daly, teen heartthrobs Joey Lawrence and Wilmer Valderrama, rising stars Patrick Wilson and Kip Pardue,…