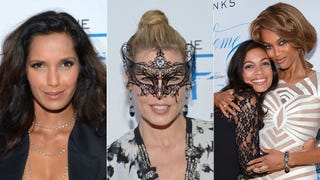 Last night in New York, Tyra Banks presented the Flawsome Ball, a gala benefiting the Tyra Banks TZONE at the Lower Eastside Girls Club. According to the official site, it's a "leadership development center" offering development workshops, mentoring and community-wide events, so that preteens and teens can build…
Today during the "Hoda's Playlist" segment — in which Hoda plays her latest favorite song while KLG rolls her eyes — Kathie Lee got really into the music. So into it, in fact, that when upcoming guest John Leguizamo hopped on-camera to dance with her, she ended up grinding on him and eventually, spanking him.
The trailer for Rage, Sally Potter's fashion industry whodunnit, makes the movie look like either the most ambitiously brilliant — or over-its-head silly — thing the British filmmaker has done since her 1992 adaptation of Orlando with Tilda Swinton.
[New York, November 24. Image via INF]
[New York, July 25. Image via Splash]