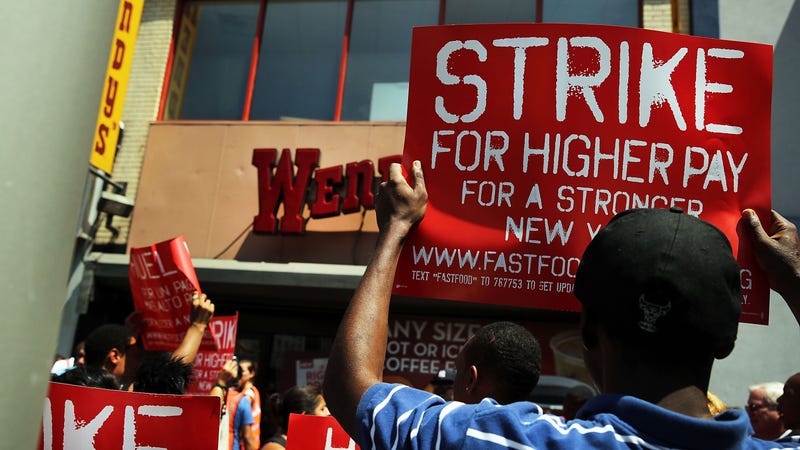 Fast food workers in 100 cities went on strike yesterday, agitating for a $15 minimum wage and the right to unionize. It's the latest move in a series of protests that have grown and gained momentum over the past year—a brave, necessary, and unequivocal clarion call for the dignity and humanity of America's low-wage workers. More importantly, though, it's also a plum opportunity to remind fat people how gross they are! (JK, fat people don't eat plums!!!!!)
First off, for some background on the strike, here's Allison Kilkenny at The Nation:
Mary Coleman, known to her co-workers as Ms. Mary, works at a Popeye's in Milwaukee for $7.25 an hour. Coleman, 59, lives with her daughter, who has a heart condition, and her two grandchildren. She also relies on food stamps to make ends meet and says she would gladly trade in her Qwest card for higher wages. Thursday marks Mary's fourth strike. Previously, she walked off the job on May 15, August 1 and August 29.

"I'm tired of working for $7.25," Coleman says. "I can't take care of my household, I can't even take care of myself."

Little amenities many individuals take for granted, such as deodorant, are unaffordable for Coleman on fast-food low wages.

..."In the beginning, I was afraid. I was skeptical. I didn't know what was going on. I didn't even know what a union was. People say, 'You're not gonna get $15 [per hour].' But I would tell people to look at what's going on. Look at where we started in New York City. On November 29, 2012, it was 127 workers who decided to walk out on their jobs to make a statement and say we want $15 [per hour] and a union. Now, [this week] 200 cities are about to have actions. This is spreading around the whole country."
And here's Jon Stewart dismantling some of the more ludicrous right-wing objections to the strike.
It might be possible to survive on $7.25 an hour, but it's just that: survival. A responsible, humane nation should want more than basic survival—survival without healthcare, without leisure, without upward mobility—for its populace. But rather than take the opportunity to rally around that inspiring notion, many Americans have chosen to use the fast food workers' strike as the set-up to a punchline about fat people's giant butts. In other words, their immediate response to a major humanitarian action is to spitefully dehumanize a different (and intersecting) group of American humans.
The same thing happened during the Paula Deen scandal, just like it happened during the Chick-fil-A boycott. Americans, it seems, cannot wait to set actual atrocities aside and scapegoat fat people for sport. As I wrote about Chick-fil-A at the time: