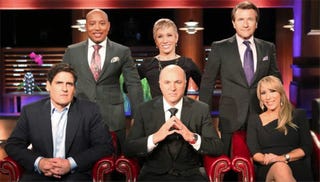 The fact that ABC's Shark Tank is even a show on television will be a surprise to anyone who enjoys leaving the house on a Friday night. But once you dive into this pool teeming with dangerous underwater creatures, you'll soon discover the secret reason for its success: the drama provoked through a strangely consistent emphasis on men, women and what we buy.
Shark Tank is a reality TV show based off the Canadian show Dragons' Den. Steadily improving its ratings over the seasons, it features a rotating panel of "Sharks" aka successful business entrepreneurs who decide whether or not to invest in products being pitched to them by a bevy of ordinary Americans. The show is strangely captivating and oddly realistic. Though the length of the dealmaking is edited down for television, as the disclaimer at the beginning of the episode makes it very clear, these are real deals that are going down (whether many of them are actually followed through on is another story).
There's plenty of sexism in the business world (and in the rest of the world too), so it stands to reason that Shark Tank wouldn't be exempt from having some of that represented on their show as well. But Shark Tank isn't an inherently sexist show as much as it's a show that waffles back and forth between advocating for female empowerment and reinforcing antiquated ideas of what women can and should do. It will feature an incredibly sexist remark from a Shark one minute, only to to have him be chastised by another Shark for said remark moments later. It will show a female entrepreneur making a deal, except the deal is for an extreme version of Spanx, the modern woman's corset. Through casting and production, Shark Tank's creators have used gender as part of the entertainment value of the product in a way that seems slightly out of place, given the content at hand.
Gender struggles being used for entertainment purposes isn't new. Shark Tank might not be The Real World or Survivor: One World, but it's still reality television, a genre which, no matter what label Oprah tries to slap on it ("docu-series"), is steeped in cheesiness and people behaving badly. But on Shark Tank, unlike on those other shows, viewers are always being reminded that we live in a world that has men and women, not just a world that has people. Until this season of the show, there had never been more than one woman on the panel at any given time: they alternated between QVC star Lori Greiner (who joined the show in season three) and real estate icon Barbara Corcoran (who has been with it since the beginning). The two are referred to – and refer to themselves – as the Lady Sharks.
Corcoran was actually offered her job on Shark Tank first, but then the producers took it away from her when they cast Greiner. In a TedX talk, she read a letter aloud that she sent to the producers convincing them to have her and Greiner audition against each other for the spot. They did, and she got on season one.
Before Greiner joined, Corcoran received a good deal of attention as the only woman; she was often referred to as a "witch." The man repeatedly referring to her as a witch is usually Kevin O'Leary, a businessman who was also on Dragons' Den who boasts the nickname "Mr. Wonderful." O'Leary's role on Shark Tank seems to be that of the "bad boy" who always says things that get others riled up (there are multiple YouTube videos devoted to his brilliant zingers). He wrote a book called Cold Hard Truth on Men, Women & Money and seems to think it's his job "to shut down Barbara for being a woman and Mark Cuban for being Mark Cuban - who's, by far, the wealthiest Shark in the Tank," my friend Laura Mayer, a public radio producer and a noted Shark Tank expert told me (she's seen every episode, some of them twice). A classic example of O'Leary's sense of humor occurred during season three of the show, when the Sharks were being pitched "Cougar Energy," an energy drink for women. The prospect of Cougar Energy prompted O'Leary to say to Corcoran, "Barbara, you used to be a cougar."
If O'Leary's role is to make slightly (or overtly) sexist remarks, Corcoran and Greiner make it their role to remind everyone they are women – even if their stances on why that's important get a little confusing. In a recent Nightline episode about the show, Corcoran and Greiner discussed being on the panel together and why they think they're so valuable to Shark Tank.
"We have a different perspective on the product," Corcoran told Nightline. "Most of the men here have trophy wives, they're wealthy men. They don't don't shop, they don't buy their kids clothes, they probably don't shop for groceries. And we also bring friendship to the women that step on the set."
"I think I bring compassion," Greiner added, arguing that she's "protective" of the female entrepreneurs that pitch to the sharks.
Though Corcoran said she brings "friendship" to the women pitching her, she also says she's tougher on the women who come through than the men:
I'm tougher on anyone who will use any excuse as to why they didn't get ahead because I've walked in the shoes knowing that I had a million excuses I could have used and I chose not to use them.
When dealing with men in her business life, Corcoran is all about reminding them that she's a woman. "I always use the sex card," she said. "I wear short skirts, I make sure I have make-up on and I flirt like crazy with the men and guess what: I get into them that way."
Greiner and Corcoran consistently refer to their genders when "battling" over pitches with their fellow Sharks. They both believe that being female gives them an advantage over their male coworkers:
Corcoran: We sort of leveled the playing field by having two women on the set.

...

Greiner: It's not a fair fight. Two women, three men. Not a fair fight for them.

Corcoran: It's more than a fair fight because our combined IQ is more than three times theirs.
This fighting, fair or not, is regularly promoted by ABC, like for the season five, episode 23 episode they promoed as a "Battle of the Sexes."