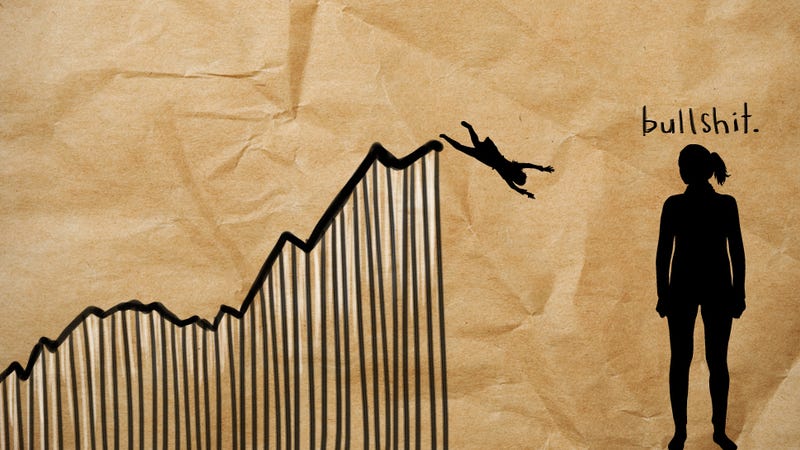 The longer I live and the more I read and the deeper I fall in love and the less I give a fuck and the more patience I lose and the more perspective I gain, the more certain I become that the people who most aggressively try to define love for others have never actually experienced it themselves.
I don't mean that in some woo-woo cornball way, I mean it in a WHAT THE FUCK ARE YOU PEOPLE TALKING ABOUT way. My vagina is livestock? My boyfriend is a customer? I should charge men for my milk? Um, okay, Casanova. Clearly you're highly qualified to be making declarations in this field of study, as you've definitely "laid lots of times" with girls you met in Niagara Falls whose boobs felt like bags of sand. Got it.
Naomi Schaefer Riley, writing in the New York Post yesterday, penned a glowing paean to the latest incarnation of the old why-buy-the-cow metaphor: The Economics of Sex, a fun, kicky YouTube animation (for the youths!) about how women are stupid and all modern relationships are made of math. Marriage rates are down, you see, because slutty, Yaz-popping scarlet women are giving up too much of their vagina-supply, causing the wife-demand to dwindle and babies to go extinct. Or, in simpler terms:
MARRIAGE = GOOD.
BIRTH CONTROL = BAD.
EVERYTHING = WOMEN'S FAULT.
"The nice thing about viewing sex in economic terms," Riley gushes, "is that we don't have to satisfy the goddesses of political correctness."
Hey, lady, and anyone else considering using the term "political correctness" as a pejorative from this moment onward, kindly go ahead and SNIFF MY DONG. (Naomi Schaefer Riley is also responsible for last week's adulation of the "post-racial" hero Jerry Seinfeld, and she can sniff my dong for that too.)
The Economics of Sex is stunningly offensive—made even moreso by the lengths it goes to appear unbiased, scientific, and hip. It is folksy and twee. It is mansplaining incarnate (you might think you know what you want, but you're wrong!). It is the "one weird trick" that women are doing with their genitals to ruin society. It is the Pastor Mark Driscoll of condescending moralistic YouTube videos (out-Driscolled only by Driscoll's own collection of condescending moralistic YouTube videos). It treats the current status quo as a static inevitability instead of an evolving, culturally-imposed framework that is vulnerable to dissent. It never once mentions liking another human being.