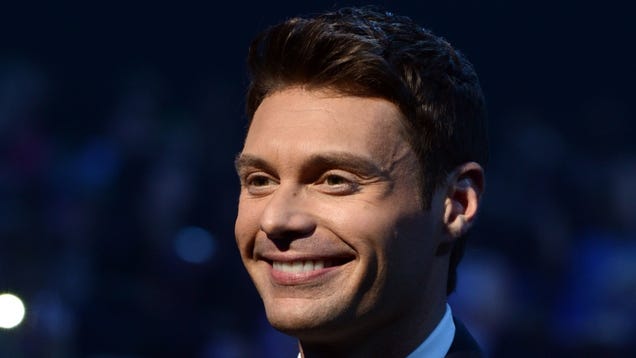 In today's Tweet Beat, Ryan Seacrest might be the most important philosopher of our time, Sia has a new perfume coming out, and Twitter reacts to the NSA scandal.
Why does pasta taste different when it's curved into an elbow shape?

— Ryan Seacrest (@RyanSeacrest) June 7, 2013
I have a perfume coming out soon twitter.com/Sia/status/342…

— sia furler (@Sia) June 7, 2013
I should have never switched to Verizon. #NSA twitter.com/SirPatStew/sta…

— Patrick Stewart (@SirPatStew) June 7, 2013
"You guys, get over here, that creepy girl is texting a guy. Oh my god, does she think this is flirting? Trevor, get chips."-the NSA, I bet.

— Julieanne Smolinski (@BoobsRadley) June 7, 2013
serious Q: does the NSA know about those times I could NOT get my phone screen to go vertical & it turned out I was holding it upside down

— Ken Jennings (@KenJennings) June 7, 2013
Dear #NSA, I checked out my son. I think he's cool but please continue to monitor. instagram.com/p/aQsUAyIFZN/

— Danny Zuker (@DannyZuker) June 7, 2013
I guess if you wanna know what's on a mountain goats setlist before the show you can just ask the President

— The Mountain Goats (@mountain_goats) June 7, 2013
Insane people don't know they're insane

— RuPaul (@RuPaul) June 7, 2013
Gimme some money

— AZEALIA BANKS (@AZEALIABANKS) June 7, 2013
"I don't know why a four year old has sexier shoes than I do." - My nine year old daughter

— Jim Gaffigan (@JimGaffigan) June 7, 2013
All JFK to LAX flights should make the announcement, "Attention New Yorkers, you will be ticketed for jaywalking in Los Angeles. Thank you."

— Gillian Jacobs (@GillianJacobs) June 7, 2013
TGIF! Today is National Donut Day!! #nationaldonutday twitter.com/peeweeherman/s…

— Pee-wee Herman (@peeweeherman) June 7, 2013
Nouveau Ratchet is the new Nouveau Riche

— MYKKI BLANCO (@MykkiBlanco) June 7, 2013
empanadas and samosas sound much sexier than our american hot pockets thus making me feel like less of a slob when I consume them

— christine teigen (@chrissyteigen) June 7, 2013
I don't usually send things like this out... but I'm making an exception. twitter.com/fakedansavage/…

— Dan Savage (@fakedansavage) June 7, 2013
I do this thing were I just go out ugly too see who really fuck with me

—Lil Debbie (@L1LDebbie) June 7, 2013
Congratulations to all the new graduates out there! xoxo twitter.com/britneyspears/…

— Britney Spears (@britneyspears) June 7, 2013
Attention Tourists: If u want to see beautiful buildings which are hundreds of years old surrounded by KFC, go to Europe.

— Judah Friedlander (@JudahWorldChamp) June 7, 2013
@rustyrocketswowswirling mess of toxicity hazmat suit needed xc twitter.com/Courtney/statu…

— Courtney Love Cobain (@Courtney) June 7, 2013
If I eat any more cheese today I'm going to go into cow menopause.

— Samantha Bee (@iamsambee) June 7, 2013
Happy birthday Prince! I hope you party like it's 1999. That involves listening to Destiny's Child on Napster and worrying about Y2K.

— Ellen DeGeneres (@TheEllenShow) June 7, 2013
What's going on in my parents' house? My dad is trying to figure out how he got wine on the BACK of his shirt& my sister is drawing a turtle

— jenny slate (@jennyslate25) June 7, 2013
Image via Getty.