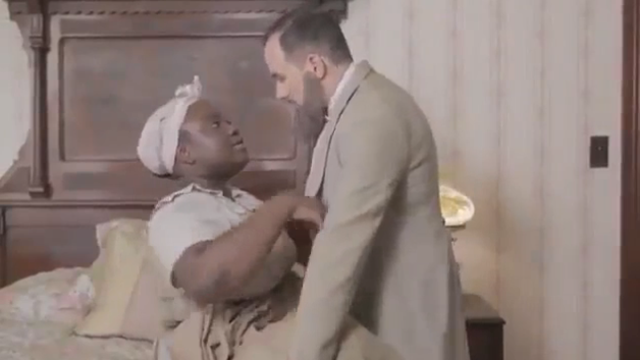 The founder of Def Jam and the former Mr. Kimora Lee Simmons apologized Thursday for releasing a video that depicted Harriet Tubman, the woman that freed the slaves, blackmailing her slave owner by secretly filming a sex tape with the two of them together.
The video, which has been pulled, was originally on Russell's new YouTube channel All Def Digital. That channel launched this week as a vertical for comedy and music videos intended for a black audience. "Harriet Tubman Sex Tape" was, according to the Kansas City Star, "the first in a series of history-themed comedy sketches planned on the channel." Sort of like Drunk History but for black people because history is for white men.
In a statement on his website about removing the video, Russell wrote:
"In the whole history of Def Comedy Jam, I've never taken down a controversial comedian. When my buddies from the NAACP called and asked me to take down the Harriet Tubman video from the All Def Digital YouTube channel and apologize, I agreed.

"I'm a very liberal person with thick skin and it's hard to offend me. My first impression of the Harriet Tubman piece was that it was about what one of actors said in the video, that 162 years later, there's still tremendous injustice. And Harriet Tubman outwitting the slave master, I thought it was politically correct. Silly me."
It should be the goal of every living human to be able to call the people at the NAACP their "buddies."
Simmons deleted his original tweet promoting the video, and also tweeted a bit before releasing his statement:
I I guess I have a sensitivity chip missing. Lol. Haven't been in trouble since defjam. Sorry if people r hurt :-(

— Russell Simmons (@UncleRUSH) August 15, 2013
Foundation for ethnic understanding event ,300 ppl @ my house then dealt w/ pulling down own "ADD insensitive video"

— Russell Simmons (@UncleRUSH) August 15, 2013
It's a dramatic start for the channel, which had just launched this week. Of the launch, Russell said in a statement:
"I've worked my entire professional life to promote up-and-coming talent and the new art forms they create and YouTube is the perfect platform for this new generation. Just as our talent will benefit from being able to engage directly with their fans, YouTube will benefit from having a network that reflects the incredible diversity of the new America."
The actress and comedian who plays Harriet Tubman, Shanna Malcolm, has spent much of her time on Twitter in the past 24 hours fighting off attacks for her involvement in the video, which she's indicated she wasn't paid for:
@ArtesianB i take ownership for my involvement if not the final product. comedy is a fragile thing & Ill b sure 2 take gr8ter care in future

— Shanna Malcolm (@shannamalcolm) August 15, 2013
@chescaleigh the intent was for comedic depiction of massa being exploited in a multiplicity ways; sadly thats not how it came across...

— Shanna Malcolm (@shannamalcolm) August 15, 2013
In a series of at-replies, Malcolm also wrote:
i dont say I hold no accountability as an actor in a project but I know that the idea was to turn history on its head & as such the manipulation/ exploitation of the "white man" character instead of a historically accurate reenactment. it failed but the majority of the response has been name calling & character assassination & im just not ok with feeding that with responses.
These concerns about race and rape culture were expressed in Change.org petition calling for the video to be removed:
Rape is not a joke, nor is the sexual violation of African American women by enslavers a punchline. Russell Simmons should remove the video and apologize for contributing to rape culture and the denigration of women, African Americans and our enslaved ancestors.
The woman who started that petition, a sociologist at Stony Brook University named Crystal Fleming, was "relieved" to find out that Simmons, who in 2009 was named a "Goodwill Ambassador for the Permanent Memorial at the United Nations to honour the victims of Slavery and the Transatlantic Slave Trade" was not in that role any longer:
I just got off the phone w/ the office of the permanent mission of Jamaica at the UN. They confirmed that Russell Simmons is no longer a good will ambassador for the memorial to victims of slavery, although the woman I spoke with was not aware of precisely how long he has been inactive. I must say, I'm relieved..
For his part, Simmons is back to using Twitter as an uncontroversial medium, tweeting his regular roster of boring truisms, of which he seemingly has thousands:
Every day set the simple goal of trying to be more awake and less distracted

— Russell Simmons (@UncleRUSH) August 15, 2013
Russell Simmons apologizes, pulls controversial Harriet Tubman 'sex tape' from YouTube [Kansas City Star]