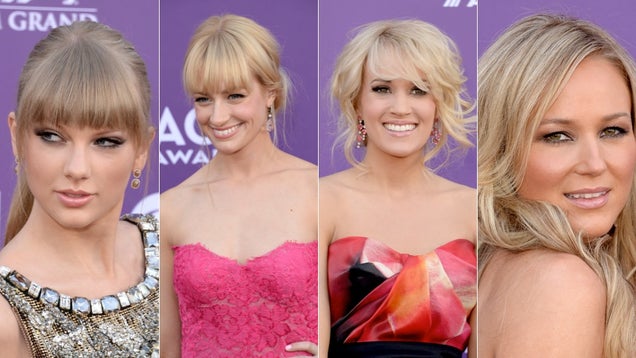 S
Last night at the 48th Annual Academy of Country Music Awards, held at the MGM Grand Garden in Las Vegas, there were big dresses, big hair, and bold statements. It's safe to say that there were things on this red carpet that you wouldn't see anywhere else.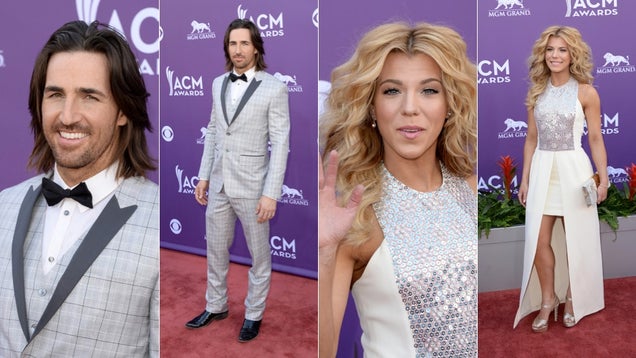 S
For instance: Where else will you see a three-piece plaid tuxedo worn with cowboy boots? Jake Owen has a unique take on formalwear. Kimberly Perry wore a dress with a sequin breastplate and mini-maxi skirt combo.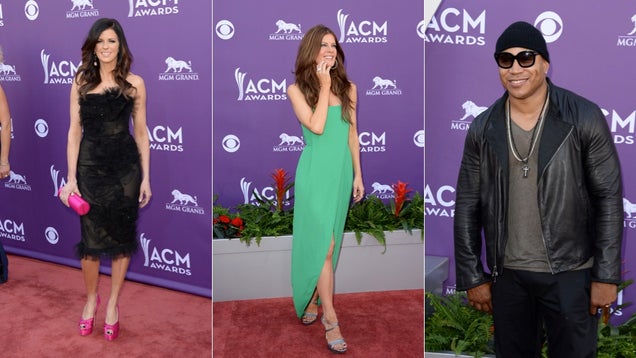 S
Noteworthy accessories: pink shoes and bag for Karen Fairchild; huge ring on Michelle Stafford; shades and diamonds on LL Cool J.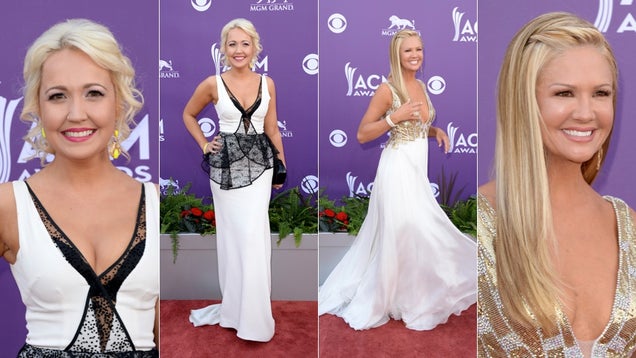 S
White was a popular hue last night. Meghan Linsey's gown was attacked by fan coral; Nancy O'Dell gilded the lilies.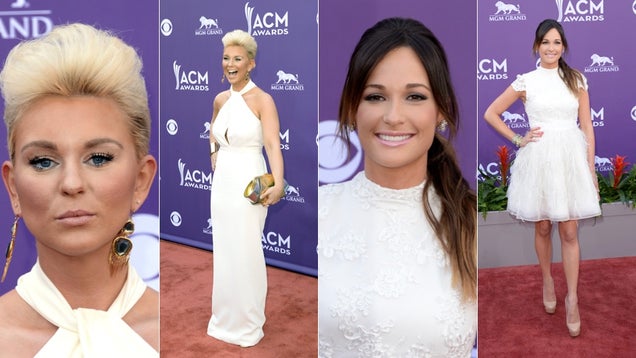 S
Jaida Dreyer wore a long ivory column; Kacey Musgraves rocked a cute white frock.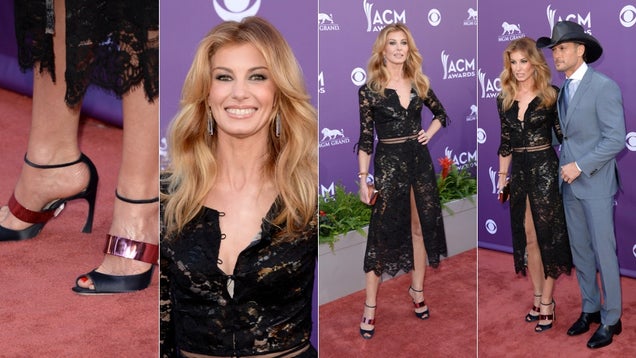 S
Black was also a big color last night. Faith Hill's sheer lace look? Kind of a mess.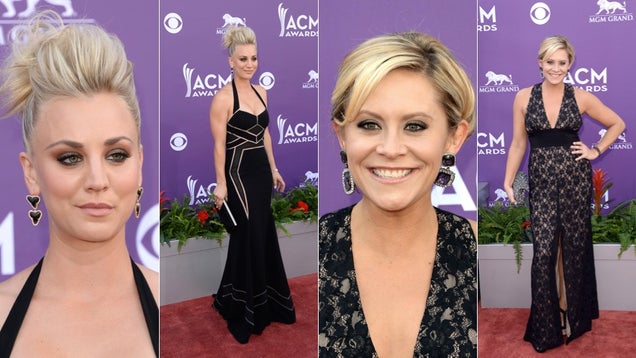 S
Better black gowns: Kaley Cuoco; Gwen Sebastian.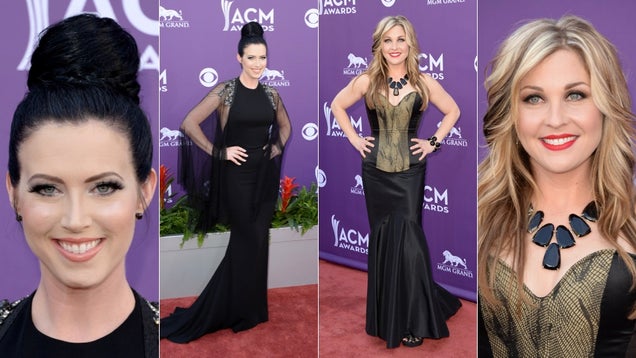 S
Shawna Thompson's big bun and sheer sleeves made for Morticia Addams drama. Sunny Sweeney's satiny skirt would definitely get a "looks cheap" comment on Project Runway.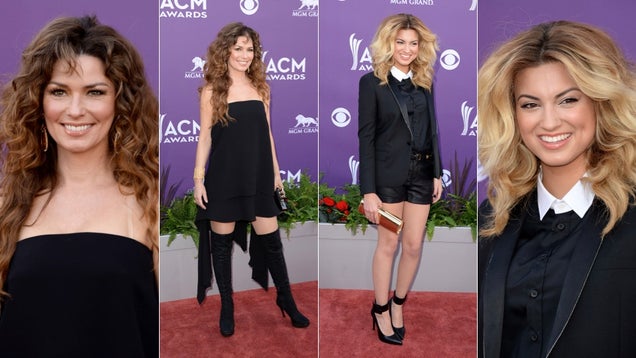 S
Opting for big hair and tiny clothes: Shania Twain; Tori Kelly.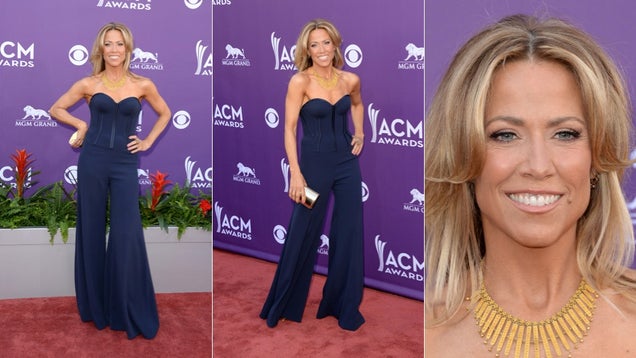 S
While other folks were doing black dresses, Sheryl Crow mixed things up in a strapless navy jumpsuit.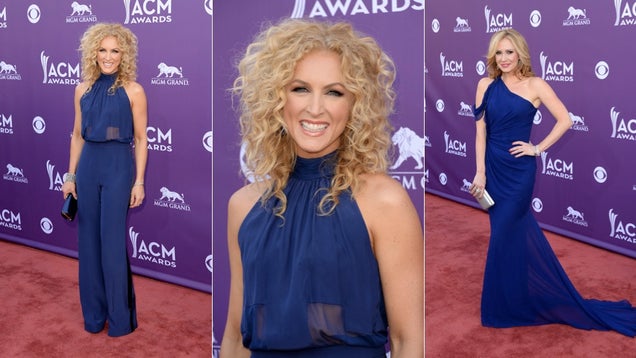 S
She wasn't the only on feeling blue: Check out Kimberly Schlapman and Ashley Jones.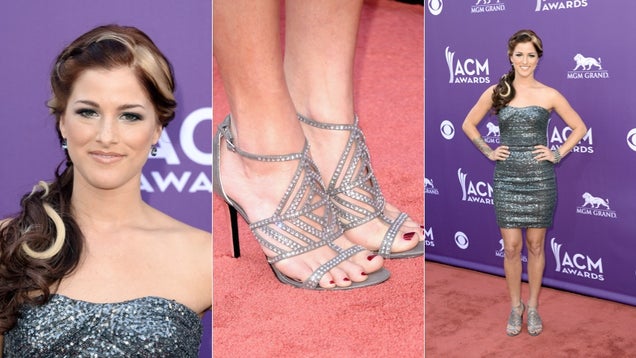 S
Metallic remains a huge trend; Cassadee Pope sparkled from eyeliner to heels.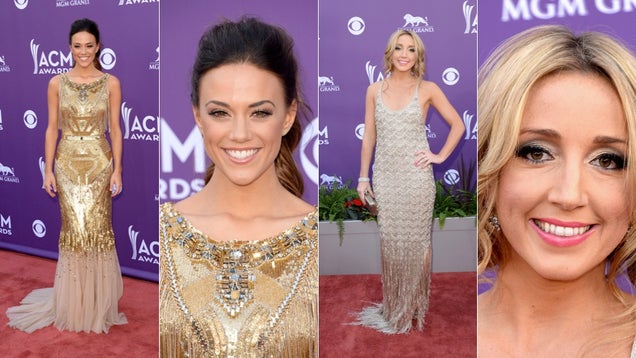 S
Golden girls: Jana Kramer, Ashley Monroe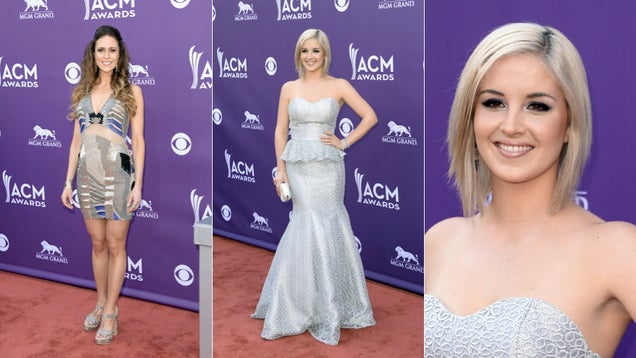 S
On the silvery side: Kelleigh Bannen and Maggie Rose.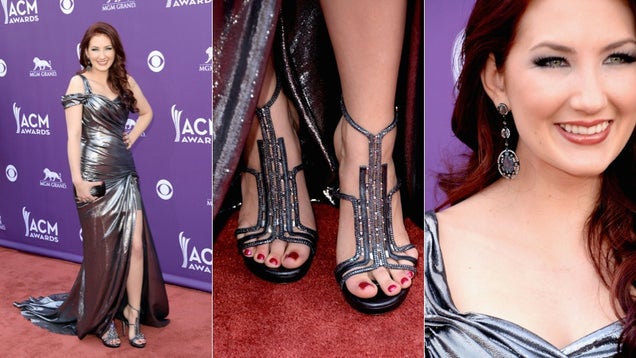 S
Hate Katie Armiger's molten pewter gown… love the glorious art deco shoes.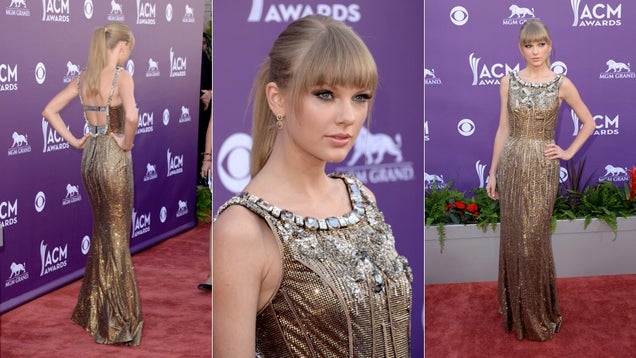 S
In an exquisite but rather stiff-looking bejeweled coppery bronze number: Taylor Swift.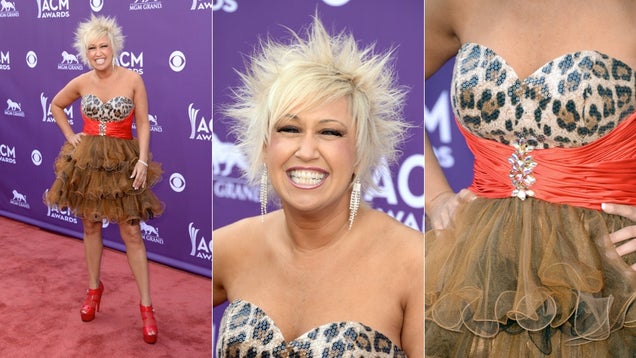 S
In a category all her own: Tobi Lee.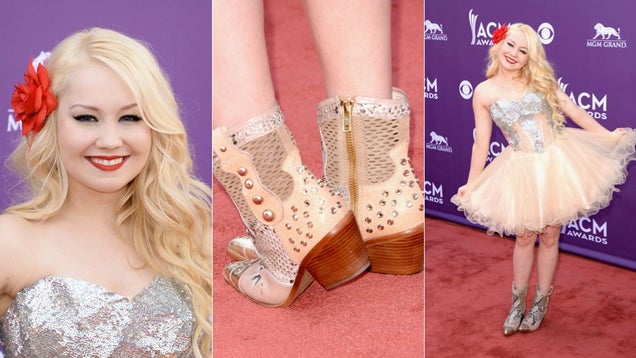 S
Oh wait! Is RaeLynn in that category? She might be in that category too.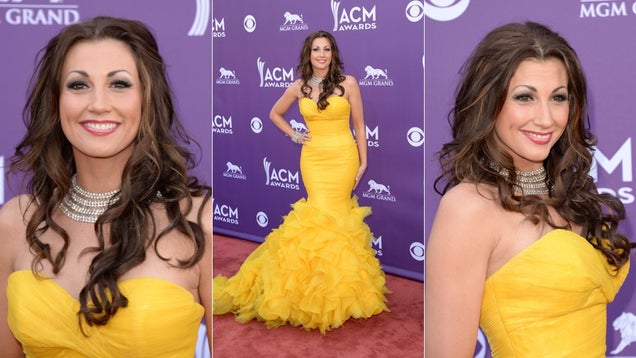 S
Inspired by Big Bird: Danielle Peck.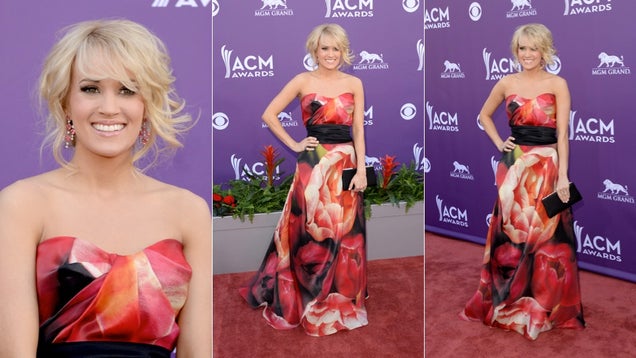 S
Now let's look at some pinkish hues! Handling a giant floral pattern quite well: Carrie Underwood.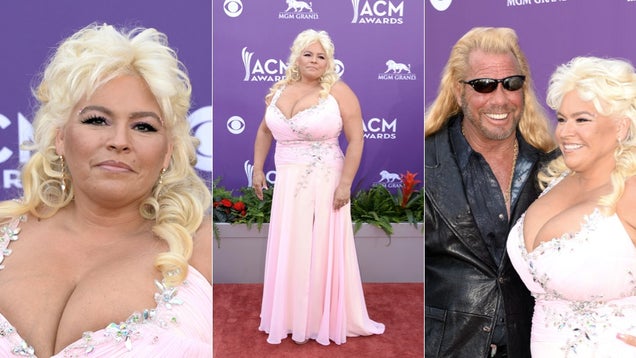 S
In pale pink, Beth Smith looked positively Mae West-ian.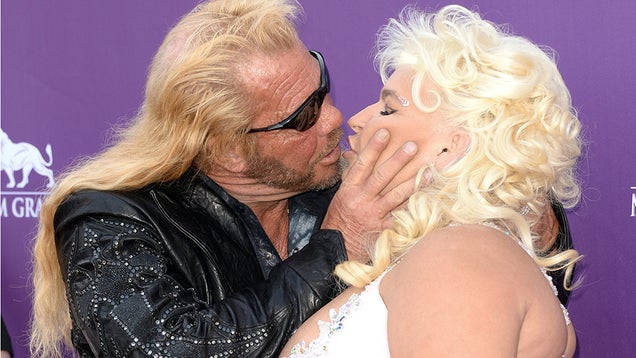 S
Husband Dog Chapman seemed to like it.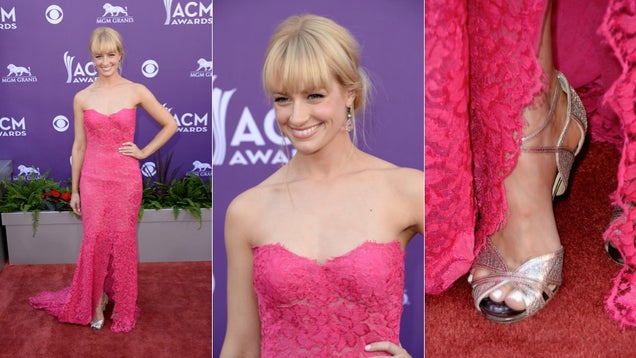 S
Hot pink lace is very flattering for Beth Behrs.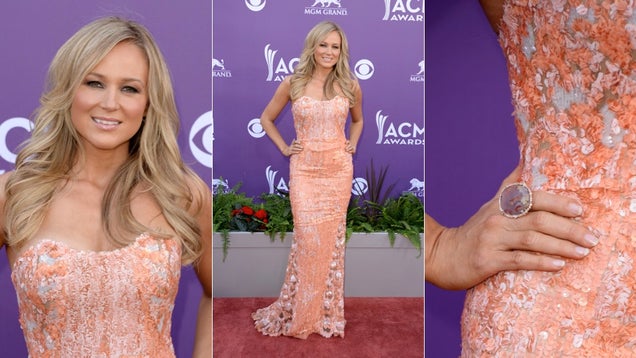 S
But I think Jewel's dress is my favorite: Peachy, springy, detailed, interesting, flattering and just pretty.
Images via Getty.