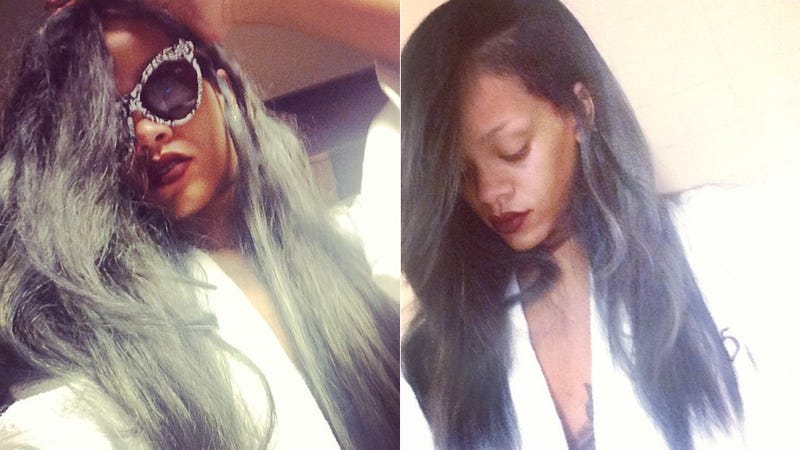 The time has come, the walrus said, for Rihanna to put some grey streaks in her hair and call it #brrr. So she did. It looks cute, I think! Then she riffed on #brr for awhile:
New color ice grey ish, call it #Brrr

Grey is the new black! Blondies, it's quiet for y'all! #brrr
And, unsurprisingly, her tardiness at concerts continues unabated — when she was an hour late to go onstage in Manchester, the annoyed crowd threw chips at her. She yelped: "Were you throwing shit at me? That's an epic fail. I swear to God, cut that shit out. Really, chips? Chips though? That's that important?"
CRISPS, Ri-Ri. It's "crisps." And don't forget to pronounce colour with a u. As in: "I have just dyed my hair a grey COLOUR that I like to call #brr. Cheerio, motherfuckers." [The Sun, L.A. Times; lede image via Instagram]
---
Pharrell insists to Rolling Stone that the nude version of the "Blurred Lines" music video wasn't meant to objectify women, and winds up, um, objectifying women? (Let's not forget this is the man who invented Qream, the jizz-like "woman's liqueur.")
"We were trying to make a moving version of a page in Vogue, where you might see a woman's breast. The body isn't meant to be objectified. I know the video has caused some controversy, but my admiration for women supersedes anything I could ever say. We all come through the conduit of the bodies of beautiful women."
All said and done, that song is so catchy. Even Rahm Emanuel thinks so. [Page Six]