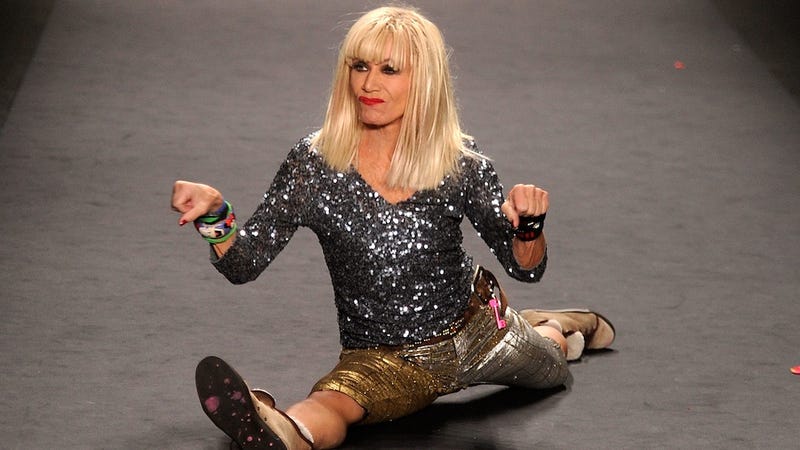 A few months ago, I had a couple of hours to kill after work and found myself wandering over to the TopShop a few blocks from work and, as I sometimes tend to do, wasting time by trying on clothing weirder than anything I currently own. It's fun in a movie montage-type way, finding out whether I can pull off a boxy pleather crop top, or a pair of fuzzy pink shorts with a denim corset and a mesh blazer or whatever crazy shit the store's buyers are trying to trick shoppers into wearing that season. Most of the time it's not as bad as my sorta-conservative sensibility would predict, and more than a few times, I've left with an item I'd never had picked out just from looking at a picture of it. But not this day.
On this particular day, one of the more out-of-my-typical-comfort-zone items I slung over my arm was a black pinafore skirt with an overall construction in the bodice, and I had high hopes for it with the Peter Pan collar style shirt I'd grabbed. But once I'd buttoned the shirt up, zipped the back of the skirt, and turned to face myself in the mirror, I recoiled, thinking, You are too old for this outfit. I looked like teen cosplay. It was the first time I'd ever felt too old for anything.
So I replaced the monstrosity on the hangers like a good retail citizen and moved along to a different store, where I wouldn't have to make awkward eye contact with such an embarrassing would-be faux pas. I had better luck there. Waiting in line with me for the checkout were a girl in NYU sweatpants sighing and flicking through Tinder, a pair of impossibly long-limbed, long haired models wearing knit beanies indoors, and three women who looked my age and older with armloads of trendy pieces they probably knew would fall apart after a couple of washings. We were all rocking Forever 21. And like the Kanye song, more than a few of us had just turned thir-tay.
This isn't how women would shop if they listened to how other people think they should shop. According to the sometimes-reliable Daily Mail, when asked, a survey found that most people think women shouldn't wear miniskirts after 35, and should hang up their bikinis not long after, because society wants older women to make themselves as easy to ignore as possible. And here's some helpful advice for how to dress for one's age by noted fashion site "eHarmony," which thinks it's normal for a woman in her 30's to put a two inch ceiling on heels LOLOLOLOL. This one's for all those women with Aerosmith crop tops just itching to wear the "latest denim styles":
Carrie Bradshaw paved the way for the 30-something gal to bare all in a short skirt, but these should be chosen wisely; a skimpy top with a high-design concept lends cache, but it may be time to hang up that Aerosmith crop top. You also might be less inclined to suffer for fashion, so while women of every age look smashing in stilettos, you're well within your rights to put a two-inch cap on heel height. [...]

Being in your 40s doesn't mean you need to trade in your little black dress for a matronly tracksuit. Women in their 40s nowadays are keeping it youthful in the latest denim styles, which pair with anything from a favorite tee to a slouchy sweater. Both styles are age-appropriate yet fashionable, but if you feel a little too exposed in that strapless sheath or cami, cardigans are a 40s woman's best friend. A simple cardi lends a touch of maturity to almost any ensemble, and this season cardigans come in such a diverse range of lengths, fits and styles that you can layer up without dialing down your style.
Oh. Okay.
Despite the best efforts of survey respondents and dating advice columnists, women aren't necessarily heeding the social directive to stop caring about fashion once Hollywood stops casting women their age as the love interest in action movies.
Gone are the days of No Miniskirts After 35. Women well into adulthood are storming Asos to deplete its supplies of unicorn sweaters after teen Sasha Obama is seen sporting one. One survey suggested that women, despite what other people say they should do, don't plan on "dressing their age" until they hit 70. Last year, the BBC began airing a show called Fabulous Fashionistas, about women well beyond their Forever 21 years who have managed to remain stylish, edgy, and fun. The Row, which is designed by Mary-Kate and Ashley Olsen (both 27) is in on the letting women dress however they want game by featuring a 65-year-old model in its most recent lookbook. NastyGal, run by a 28-year-old badass named Sophia Amuroso, markets edgy teen clothing designed for women in their teens and twenties, but successfully rocked by Celebrities and Regulars well into their thirties and forties. We're all dressing like teenagers now, because we want to, and because we can.