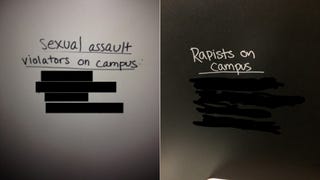 Fed up with their school's inadequate response to sexual assault on campus, an anonymous group of Columbia University students have taken matters into their own hands. But they're not relying on the court system to force the University to address the problem; they're posting so-called "rapist lists" in women's restrooms. And if they get caught, they could be in medium-to-large-size trouble.
According to the Columbia Lion, the lists began appearing last week in the women's bathroom on the fifth floor of Hamilton Hall. The original list contained four names of current Columbia undergraduate men, each written in a different color and in different handwriting. That list remained up for several hours before it was scrubbed by maintenance workers.
This week, a list of the same four names appeared again, this time all in the same handwriting, but written several times over in a different building's bathroom. This time, the list's author didn't refer to the names as the sanitized "Sexual Assault Violators," but rather the more succinct "RAPIST LIST." For a really, really, really bad time, call...
School officials are treating the first incident as "graffiti," which according to Columbia's student conduct code, could result in serious disciplinary action.
Students at Columbia University have long been critical of their school's lackluster response to sexual assault. Last month, a group of 23 Columbia and Barnard students filed a lawsuit against Columbia University, alleging that the school had violated both Title IX and the Clery Act by failing both to notify its students of sexual assault and to protect its students from perpetrators. The complaint alleges, among other things, that students were discouraged from reporting rapes, and that when they did, the perpetrators were given light slaps on the wrist and allowed to remain on campus.