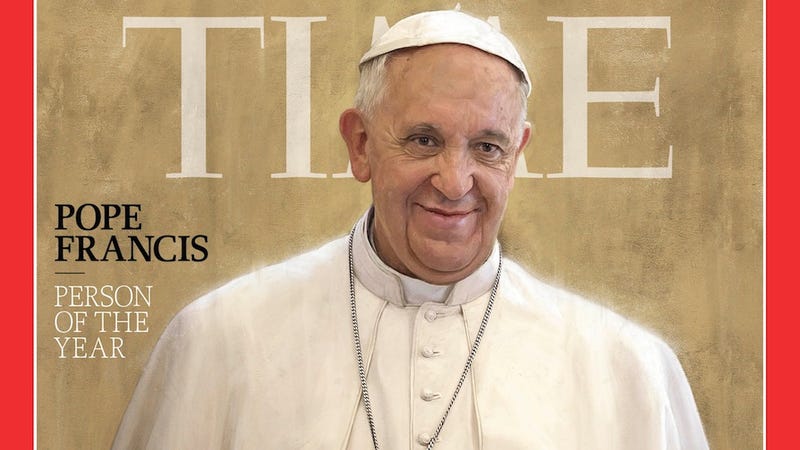 This morning, TIME announced that this year's Prom Queen Of News is none other than Pope Francis. The pontiff is the perfect choice for 2013's Person of the Year — he changed the Church from a mouthpiece for intolerance into one of love and acceptance. Except not really for women. He's still pretty meh about women. But you can't win 'em all, right?
Regular Dude Jorge Mario Bergoglio was, through the Godmagic of the Catholic Church, transformed into Pope Francis this March after Pope Palpatine Benedict became the first pope in hundreds of years to abdicate the papacy before death. (Others on TIME's shortlist included doc leaker Edward Snowden, Syrian despot Bashir al-Assad, gay rights pioneer Edith Windsor, and yammering embarrassment Ted Cruz. Way to go with an uplifting choice, TIME.) Since his election, Francis's message has shifted from his predecessors' dark but time-tested message of "15,000 Reasons You Should Go To Hell" (Buzzpope's most popular — and only — listicle) to a softer, more inclusive, more Christ-y message. TIME explains its choice thusly (and beautifully),
He released his first exhortation, an attack on "the idolatry of money," just as Americans were contemplating the day set aside for gratitude and whether to spend it at the mall. This is a man with a sense of timing. He lives not in the papal palace surrounded by courtiers but in a spare hostel surrounded by priests. He prays all the time, even while waiting for the dentist. He has retired the papal Mercedes in favor of a scuffed-up Ford Focus. No red shoes, no gilded cross, just an iron one around his neck. When he rejects the pomp and the privilege, releases information on Vatican finances for the first time, reprimands a profligate German Archbishop, cold-calls strangers in distress, offers to baptize the baby of a divorced woman whose married lover wanted her to abort it, he is doing more than modeling mercy and ­transparency. He is ­embracing complexity and acknowledging the risk that a church obsessed with its own rights and righteousness could inflict more wounds than it heals.
Francis's above mentioned anti-greed treatise and his adamant humility was far from Francis's only feather-ruffling act this year, as TIME points out. He also had the audacity to issue those refreshingly gay-tolerant statements and suggest that maybe if the Church wouldn't harp on right wing American social issues so much, maybe people would be more into actually being Catholic. Maybe.