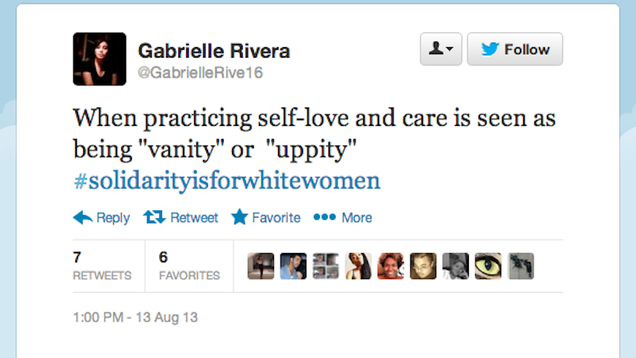 Yesterday, the hashtag #SolidarityIsForWhiteWomen trended globally on Twitter. But what's THAT mean? Media outlets that produce content specifically for women (and feminist media sources AHEM) have a terrible record of excluding women of color in the conversation, or refusing to address glaring problems with how women of color are presented or discussed by mainstream media outlets.
There were literally thousands and thousands of Tweets on this subject yesterday, so if you've got some time to get schooled pretty hard, I'd recommend checking out the hashtag page. In the meantime, have a seat and strap in.
#SolidarityIsForWhiteWomen whn Rihanna is criticized for wearing a traditional carnival outfit bt Lena Dunham is praised for going topless

— Solè (@TheSolarium) August 12, 2013
#solidarityisforwhitewomen when pink hair, tattoos, and piercings are "quirky" or "alt" on a white woman but "ghetto" on a black one.

— Zeba Blay (@zblay) August 12, 2013
#SolidarityIsForWhiteWomen calls Hillary the first viable women's candidate even though Shirley was the first and only nominee

— Sydette (@Blackamazon) August 12, 2013
When an Indian woman is raped and beaten and we blame it on "her people's" culture. #solidarityisforwhitewomen http://t.co/kN6k1RyoaZ

— Leah B. (@CircleCityStyle) August 13, 2013
#SolidarityIsForWhiteWomen = fighting for #reprorights but saying nothing ab shackling of pregnant & forced sterilization incarcerated WOC

— Renee Bracey Sherman (@rbraceysherman) August 12, 2013
#SolidarityIsForWhiteWomen is when Femen gets to decide the Muslim women's attire.

— فَرَحْ Farah (@RoadToPalestine) August 12, 2013
#SolidarityIsForWhiteWomen when convos about gender pay gap ignore that white women earn higher wages than black, Latino and Native men.

— Rania Khalek (@RaniaKhalek) August 12, 2013
Miley sticks middle finger up in pics, smokes & wears grills = just her being a kid. Trayvon does it = hes a thug #SolidarityIsForWhiteWomen

— Mixed Girl (Problem) (@mixdgrlproblems) August 12, 2013
#SolidarityIsForWhiteWomen when @nytimes doesn't find this ironic pic.twitter.com/jnw3eooV

— Ayesha A. Siddiqi (@pushinghoops) August 12, 2013
And finally, a helpful reminder,
Fellow white feminists: #SolidarityIsForWhiteWomen is not for us to defend, explain, protest. It's time for us to take a damn seat & listen.

— ShelbyKnox (@ShelbyKnox) August 12, 2013
Update: The originator of the hashtag page, Mikki Kendall, has been incredibly influential to this conversation and should have been at the top of this list. See her speak more on the hashtag here. To have not included her in the original post was an oversight. Apologies to Ms. Kendall.
[Twitter]