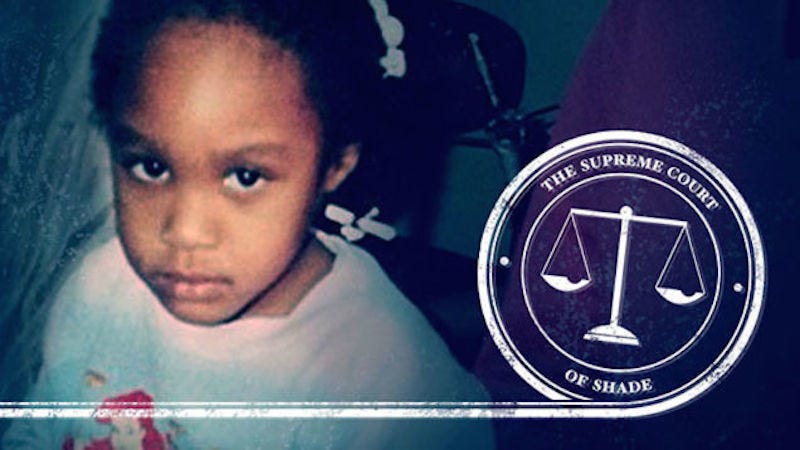 I haven't checked, but I'm almost certain Shade Court is the only branch of government still standing. If that's the case, hi, I'm in charge now. This is the new national anthem, healthcare is free, I've sent Paul Ryan to Cuba and jalapeño poppers can now be used as currency. This is Judge Brown's America.
In this week's Shade Court, the sportsmen are back, Reese Witherspoon flexes her Southern roots and if you want something done right, you have to throw the shade yourself.
Shade Court Docket #2017JZ000035
The Case: Someone hacked into the McDonald's twitter account and fired off a tweet disparaging Donald Trump and his petite hands.

The Defendant: Vocativ
The Evidence:
The Deliberation: Gather 'round and let us learn an important lesson about not letting other people make you look silly.
The actual article here does not cite the tweet as shade, presumably because the author is an ardent Shade Court reader, knows nothing about shade or simply has some common sense. Now, I don't want to rag on social media editors specifically because they can be great and lord knows I'm not trying to analyze the click rate of the engagement Snapchat analytics.
This is more an example of why you don't let other people handle shit that would be better for you to handle yourself. You gotta control your brand with Beyoncé-level precision—you can't put blue lights on black girls. Don't let someone step on your toes and if they do, you have to re-commandeer the shit á la Tyra Banks snatching her show back from Rita Ora.
Do not let fallacious declarations of shade happen to you! Do not let some goober who thinks they have a handle on "millennial slang" make you look like a fool. If you're going to look like a fool, look like a fool on your own accord. Lord knows that's how I live my life.
The Ruling: Not shade
Shade Court Docket #2017JZ000036
The Case: SPORTSMEN TIME!
This might get confusing but stay with me. Or don't. It's just the sportsmen. Bret Bielema coaches the Arkansas football team. (Is it the University of Arkansas? Arkansas State? The Arkansas Seminary School? The Arkansas Culinary Institute? Who knows! More to the point, who cares?) Seeing as how it's time for the student athletes who play football to actually do the student part of their job for which they don't get paid, Bret was relaxing by watching some basketball.
During the Arkansas versus Kentucky contest, Kentucky was kicking the ass of Arkansas and one Arkansas player handled his frustration by basically smacking a Kentucky player in the face. Healthy!
Bret, who as far as I can tell, doesn't have anything to do with any of this, offered his two cents which amounted to accusing the referees of favoritism.
The Defendant: NBC Sports

The Evidence: