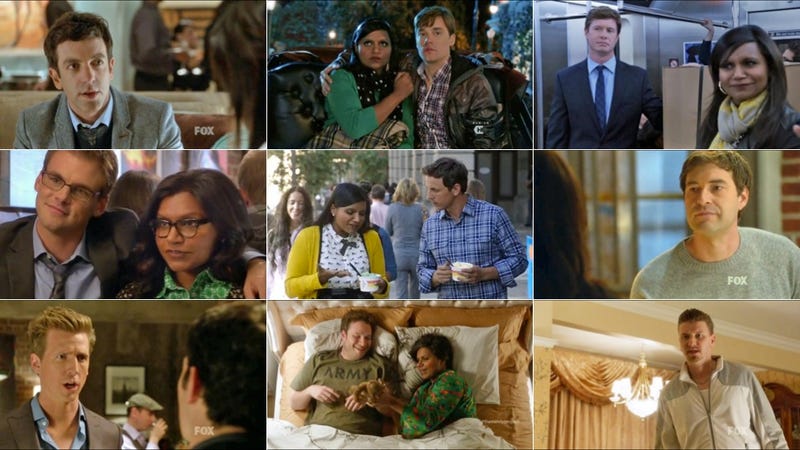 As the season finale of The Mindy Project airs tonight, it's also been announced that show has been renewed for a second season, which is great: While sometimes uneven and unsure of its purpose — Is it a workplace comedy? A medical sitcom? A show about a single woman? An ensemble show? — the jokes are quick, sharp and funny; and Mindy Kaling's alter ego, pop-culture obsessed gynecologist Dr. Mindy Lahiri, has a way of being simultaneously wise and naive, deep and shallow, confident and awkward. That said, when it comes to Mindy Lahiri's love life, there's zero variety. The doctor has a Type.
Mindy Kaling has said that she has a thing for blond men; "I have taste in men like an adolescent girl," she told Us Magazine.
"I embarrassingly love blond men — hot pinups like Chris Evans and Chris Pine," she explained. "I feel like people expect me to have an edgy choice, like Justin Theroux, and I'm just like, 'Nope! I want Captain America!'"
But apparently, Mindy Kaling's type is also Mindy Lahiri's type. Every single one of Dr. Lahiri's love interests on The Mindy Project has been a tall, sandy-haired white man.
Mindy insists that she is different from her character:
"I'm a lot more square than her. I've never drank the way she does," the Office alum told Us. "I'm really a nerd. I go to bed pretty early. Even when I went to Dartmouth — which is a pretty big drinking school — I never took part in anything like that. I was too scared of my parents' reaction."

Still, in the 23 episodes that have aired so far, despite announcing "black guys love me" at a club, Mindy Lahiri has only dated and slept with white men. She has exes played by Ed Helms and Bill Hader. Dr. Lahiri never says that she's only attracted to white guys, but if you check out the love interests (in the image above), it's fairly obvious that the casting notes are very specific. (Granted, some of these actors are friends with Mindy Kaling, and wanting to work with friends is understandable.)
Consider this: Back in 2010, in an interview for Playboy, when asked if he ever dates black women, John Mayer uttered now-famous words about his penis:
"My dick is sort of like a white supremacist. I've got a Benetton heart and a fuckin' David Duke cock."
As Latoya Peterson wrote back then: