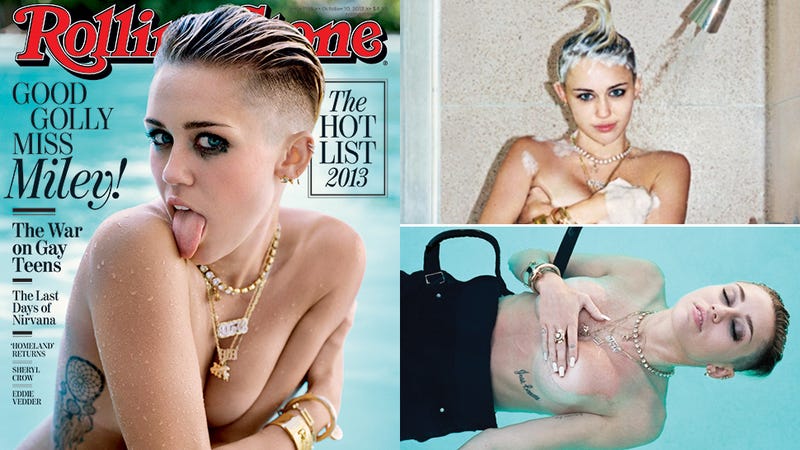 Miley Cyrus is topless on her first-ever cover of Rolling Stone, and inside, she admits that she's bothered by her MTV performance being labeled racist — and she has some words for people who believe her "ratchet" ways are nothing more than cultural appropriation.
Writer Josh Eells spent a few days with Miley — he went with her as she got the words "ROLLING $TONE" tattoed on her feet; they ate sushi together; they went skydiving — and over the course of the interview, he touched on the brouhaha Miley stirred up by surrounding herself with twerking black women:
If there's one thing that bothered her about the fallout, it was the idea that her performance was racist, or a "minstrel show," because, critics argued, she appropriated a dance style common in black culture and used black backup dancers like props. "I don't keep my producers or dancers around 'cause it makes me look cool," she says. "Those aren't my 'accessories.' They're my homies." Meanwhile, she argues, the idea that she's somehow playing black is absurd. "I'm from one of the wealthiest counties in America," she says. "I know what I am. But I also know what I like to listen to. Look at any 20-year-old white girl right now – that's what they're listening to at the club. It's 2013. The gays are getting married, we're all collaborating. I would never think about the color of my dancers, like, 'Ooh, that might be controversial.' What do you mean?" she says with a laugh. "Times are changing. I think there's a generation or two left, and then it's gonna be a whole new world."
A couple of things: 1. At least she admits that despite embracing grills and other trappings of a culture plagued by struggle, she's actually quite rich. 2. "Everybody's doing it" is the weakest defense in the world. 3. Most critics are not accusing her of trying to be black; they're pointing out that she is using black people as accessories to look cool and hip — like donning a leather jacket or a pair of sunglasses. Except humans are not fashion accessories. Critics were also offended by the jokey commodification of black women's bodies; one feels she is in desperate need of an African-American studies class. The folks she's working with may be her friends, but her image is a product, and she's using black people to sell that product. (And are these people her friends because they have a genuine affinity for each other? Or is it because she thinks it's cool to hang out with black people?)