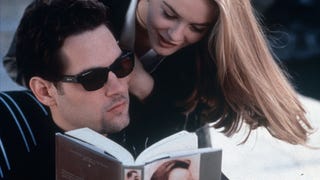 BREAKING: Men are now using uptalk, a vocal trope our culture has designated as the territory of dumb and ditzy women. This development apparently threatens the very institution of masculinity and, by extension, society as a whole.
Thus argues Renee Dale (jokingly!) (but not joking about the sexism part!) in a piece for GQ, entitled "When Did We All Start Talking Like Valley Girls?" Her argument, distilled into once sentence: "The last thing a woman ever wants to hear a man say is 'I want to fuck you?'"
The Man Who Speaks Like A Woman is is actually a topic that's already been grumpily opined upon and alarm-raised about to the extent that we're no longer beating a dead horse — what we are doing now is using a Ouija board to verbally berate the dead horse's wayward spirit. Each time the topic of men uptalking rears its ugly head, the finding (men are sounding less assertive! Like idiot unsure girly girls!) is greeted with some sort of disapproval or anger or mild panic.