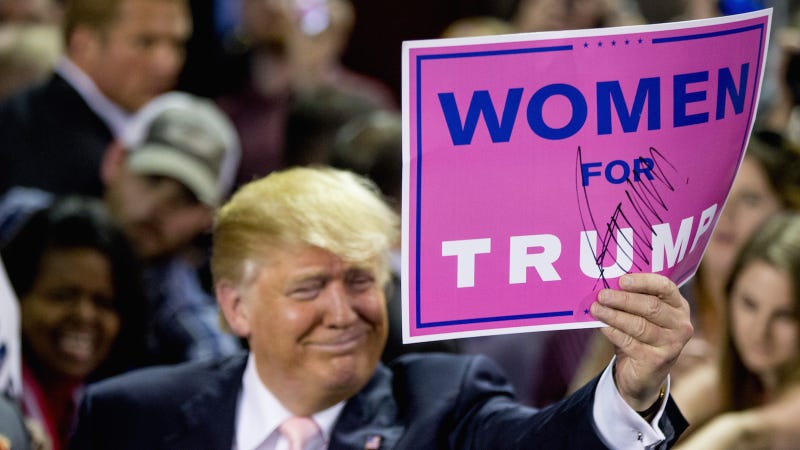 "It's just words, folks," Donald Trump said during the debate on Sunday night. Trump had been asked by moderators about his now infamous 2005 comments: "Grab them by the pussy. You can do anything." Just words—that was the defensive direction his campaign took almost immediately after the Washington Post reported on his comments, aimed at Entertainment Tonight host Nancy O'Dell. It was, according to the Trump campaign, little more than "locker room" talk, a harmless back-and-forth between two men expressing natural fantasies. Two men were just talking.
That narrative played out and gained momentum over the course of the week that followed. On the 700 Club, evangelical host Pat Robertson said that Trump was "just trying to look macho." In an interview with the Weekly Standard, Alabama Senator Jeff Sessions said that he wouldn't characterize what Trump described as a sexual assault, just "very improper language." On CNN, Corey Lewandowski yelled at his co-workers, "That's what said in a locker room. Guys, don't kid yourself."
Lewandowski interrupted Gloria Borger to explain, simply and loudly, that words don't matter, that men just talk like that. Americans, he insisted, needed to be protected from ISIS and from the real lurking danger of Bill Clinton, they needed to focus on the real issues. Lewandowski, like other Trump surrogates, wanted to have his proverbial cake and eat it too—like Trump, he wanted to invoke sexual assault on his own terms, under a definition of his own making. Trump was just talking, boys will be boys, and what's been described as "lewd" and "crass" language should have no repercussions and require no accountability. After all, serious men have serious things to talk about. By definition, this whole thing was not serious.

This narrative strain has run throughout Trump's entire campaign. When he called Alicia Machado "Miss Piggy" and "Miss Housekeeping," they were just words. When he described women as pigs and dogs, on Howard Stern's radio show, it was just a joke. When Fox News host Megyn Kelly asked Trump about his persistent need to compare women to animals, he became enraged, saying she had "blood coming out of her wherever." It was the first time conservatives abandoned Trump publicly, saying that his words had demeaned the office he was seeking. Trump insisted that the liberal media had misinterpreted his words, he wasn't making a tired and boring menstruation joke, he was referring to hypothetical blood coming out of Kelly's ears.
Authenticity, the New York Times notes, has always been Trump's primary appeal. Throughout his campaign, he's railed against politically correct speech—a collusion between a nefarious left and the lying media—arguing that such a culture amounts to censorship of important ideas. Men shouldn't be criticized for just talking. Even fellow Republicans admitted that Trump's brashness—his willingness to speak his own truth to power—was refreshing. Casting himself and his supporters as victims of PC culture run amok, Trump breezed through the Republican primary as he insulted women, called Mexicans "criminals and rapists," and promised to ban Muslims from entering the United States. A man just talking is a de facto policy of Trump's campaign; a clear signifier of masculinity and of strength, of making America great again.
Despite his long history of racist and sexist remarks, it was Trump talking about grabbing the pussy of a white woman that led to his campaign's meltdown. It was this that finally earned the public rebuke of the Republican leadership. They distanced themselves over Twitter and through press releases (though they did not uniformly withdraw their endorsement of Trump). Each echoed the same sentiment: white women are too precious to be spoken to like that, these men would never speak about their wives or daughters with such contempt. The Republican leadership has long accepted Trump's words, but in the tape, he crossed an invisible line, a line that allows him to make sexist remarks about journalists or women of color, but doesn't allow such treatment of the kinds of women deserving of protection. The kinds of women—white and married—who traditionally vote for Republican presidential candidates.