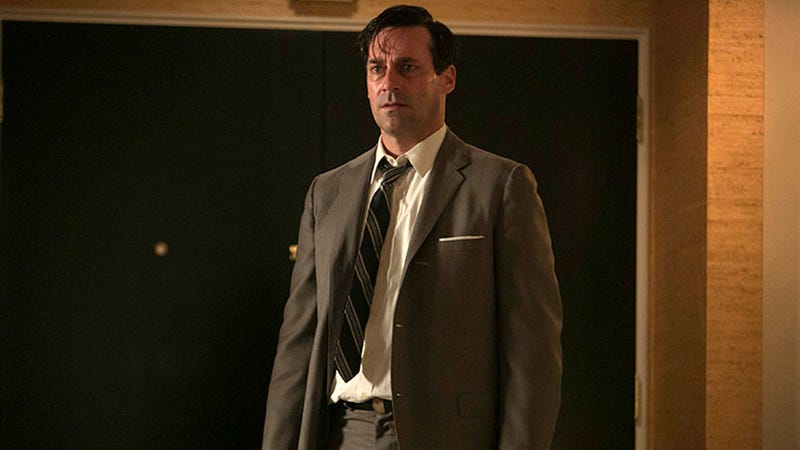 After getting shot up with a "mild stimulant," Don goes on a wild ride through sleep deprivation psychosis that went about as well as Ken Cosgrove's wild ride in the Chevy Impala, with both ending similarly, lending last night's episode its name: "The Crash."
Of course, "The Crash" might also refer to Don finally hitting rock bottom, making it an impressive triple entendre, something that's really hard to do but never fails to impress, like the album title of Snow's 12 Inches of Snow. (Dick size, LP size, snowfall.) More impressive were all the Easter eggs and intertextuality and flashbacks that have made watching this season—and this surreal episode, in particular—feel like Lost. Interestingly, over at The New Yorker, Emily Nussbaum said:
As the island was to "Lost," Don Draper is to "Mad Men." He was a great premise, a mystery we were dying to understand. But, the more the puzzle has been filled in, the more he's begun to feel suspiciously like a symbol.
But we'll get there in a minute. First, it all started with the still-as-yet-unnamed firm's realization that a huge client like Chevy means that huge creative demands. Essentially: Mo' money, mo' problems. They're working themselves to the bone to try and satisfy General Motors only to learn that the process could take three years before they actually get an ad approved. So Harry Hamlin calls in his doctor to give everyone the jolt they need to keep going.
Amphetamines shots were pretty common practice in the 1960s. President Kennedy relied on them to deal with his chronic back pain. (I wouldn't be surprised if a re-blonde, re-thin Betty had a little help slimming down from that doctor her mother-in-law had recommended.) If it's coming from a doctor then it can't be bad for you, right? This is the mindset that killed Elvis and countless other addicts.
Considering what we know about Don and addiction—he's both an alcoholic and a sex addict—adding pharmies into the mix seems like a terrible idea. And it was! He had a terrible reaction, albeit only a little bit worse than the others in the office.