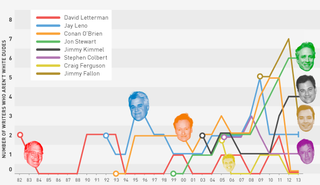 When NBC announced last May that their next late night host would be Seth Meyers, reaction ranged from Yay, I love him to Meh to Great, another white guy. While Meyers looks like most everyone who has hosted before him, the next generation of late night hosts are quietly ushering in diversity. We just don't see it because it's coming from their writers' rooms.
NBC shifted their line-up thusly: they replaced former Saturday Night Live "Weekend Update" host Jimmy Fallon as the head of Late Night with Meyers, who was also a former Saturday Night Live "Weekend Update" host. Fallon would be moving on to replace Jay Leno as host of The Tonight Show, bumping up a time slot and officially forcing Leno out of a job he'd infamously managed to take back after losing it once.
In the entertainment industry, these changes were a Big Deal. Meyers is much beloved (and had been rumored to be a possible contender to join Kelly Ripa in the morning), Fallon was seen as deserving of a promotion and Jay – well Jay was getting the ending he should be getting. An opportunity to shakeup the network late night landscape, long seen as a nightly reminder of the boy's club that is the comedy world, had been missed.
But behind the scenes, things have been percolating. The host changes reflected far more than a changing of the guard: they meant an opportunity for the makeup of the people who write these shows could be altered somewhat drastically. And in fact, they actually have been altered. The "dinosaurs of late night" – what more than one person women Jezebel spoke with for this piece called the many famous long-time hosts of some of the top shows – are dying out. And from that death, some good has come.
The New Kid in Town
Images via Mike Shoemaker and Alex Baze/Instagram
In December, Splitsider drew attention to two Instagrams that Late Night with Seth Meyers producer Mike Shoemaker and writer Alex Baze had posted of the writers of season one of their new incarnation of the show. Taken as the full lineup of writers, neither depicted an incredibly diverse bunch. As is the way with these jobs, Shoemaker and Meyers hired a bunch of people who had worked together before: Peter Grosz (formerly of The Colbert Report) and John Lutz (of SNL and 30 Rock) were of iO and Second City and also once had a two-man show together. Baze was formerly the head writer of "Weekend Update," working with Meyers and Lutz on several seasons of SNL.
The show's one black writer, Chioke Nassor, directed SNL's Jay Pharoah in his Kanye West parody "I Am A Dog." Ben Warheit worked on The Awesomes with Shoemaker; Shoemaker also apparently had a previous connection or admiration for Seth Reiss, who comes from The Onion and Comedy Bang! Bang! Other hires include Connor O'Malley of The Chris Gethard Show and Bryan Donaldson, hired because he's known to be funny on Twitter. Kyle Martirez-McIntosh of Arrested Development and Veep was brought on as a writer's assistant. At the time, only one female writer was on staff: Alison Agosti, whose credits include time at UCB LA, writing for The Atlantic and also being funny on Twitter. Like the rest of her coworkers, Agosti was excited about the gig; she also posted a photo of a few of the writers on her Tumblr.
Later on, Jezebel reported that Meyers' had hired Amber Ruffin, who we noted was the first woman of color to be a staff writer for a nightly network late night talk show ever. Ruffin was hired along with another unnamed female writer. In weeks since that woman has been revealed to be stand-up comedian Michelle Wolf. Finally, Wolf and Ruffin were joined by UCB's Andrew Law. Law, who is Asian, won the first year of the NBC/UCB Diversity Showcase, a scholarship program sponsored by NBC that provides the winner of the competition with a year's worth of classes at UCB. Law has appeared on Late Night with Jimmy Fallon and 30 Rock. Many of the writing staff, including Wolf, Ruffin, Law Agosti and Nassor, have been prominently featured in the commercials for the show.