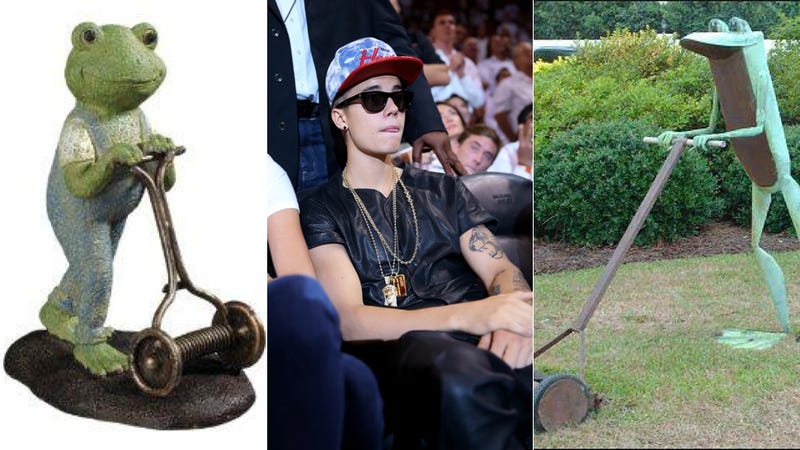 In today's edition of Tweet Beat, Justin Bieber fixates on a frog lawnmower, David Lynch has some pretty cool weekend plans, and Kelly Cutrone supports all female-run businesses.
Frog lawn mower

— Justin Bieber (@justinbieber) June 14, 2013
June 14, 2013
June 14, 2013
June 14, 2013
June 14, 2013
Dear Twitter Friends, I am building a box with wallpaper & a nude woman. What are you doing this weekend?

— David Lynch (@DAVID_LYNCH) June 14, 2013
Supporting female run business has a BUZZ to it!!! BEES! QUEEN Bees!! pic.twitter.com/1JCcclhNqI

— Kelly Cutrone (@peoplesrev) June 14, 2013
I'm sorry about the tweets I said about @drake I didn't mean what I said. I hope to become friends with him instead of smashing him!

— Amanda Bynes (@AmandaBynes) June 14, 2013
I am and will forever be the truest mermaid in the sea

— AZEALIA BANKS (@AZEALIABANKS) June 14, 2013
I want to live in Lickey End… pic.twitter.com/7loTGgXgpi

— Stephen Fry (@stephenfry) June 14, 2013
Fun fact: I love The Nightmare Before Christmas

— Aaron Carter (@AARONCARTER) June 14, 2013
Imagining you belly button is a square and pushing the top two corners will alleviate sinus issues. Dr Dom clocking off.

— Dominic Monaghan (@DomsWildThings) June 14, 2013
Really torn because would Jesus wear this What Would Jesus Do rubber bracelet?

— Michael Ian Black (@michaelianblack) June 14, 2013
I just thought about what my grandchildren are going to be like and panicked

— Maude Apatow (@maudeapatow) June 14, 2013
Tonight's Mansion movie is Dustin Hoffman in "Tootsie."

— Hugh Hefner (@hughhefner) June 14, 2013
I'm not down with all this weight loss spam I get #althoasiansusuallylovespam #iprefersperm #gross #notreally

— Margaret Cho (@margaretcho) June 14, 2013
My perfect heaven: you die and fall into a field full of Post-It Notes upon which are written every idea you've ever forgotten to write down

— Megan Amram (@meganamram) June 14, 2013
One is fake. One is real. Both are made of wax. You decide! pic.twitter.com/h6TPDCOrcx

— Joan Rivers (@Joan_Rivers) June 14, 2013
#WTYM #NINJANATION #NINJA #Ninjette #NINJAS #F_O_L_L_O_W_F_R_I_D_A_Y #word #nowplaying #FF #FollowFriday #lol

— Vanilla Ice (@vanillaice) June 14, 2013
I always romanticize train travel and it always turns out to be humbling and aggravating...like a romance.

— marc maron (@marcmaron) June 14, 2013
If you have appeared on three different reality shows you are a psychopath. If you have appeared on more than five you are a genius

— Ike Barinholtz (@ikebarinholtz) June 14, 2013
I'm one of those people who looks nothing like John Lennon

— Ed Weeks (@EdwardWeeks) June 14, 2013
Excited to see some of my fellow gals already rocking "The Erection Murderer"* this summer! *gladiator sandals, harem pants & a top knot

— Julie Klausner (@julieklausner) June 14, 2013
iPhones imagine us in an abstracted world of self-awareness & emotional cowardice in which we are always ducking happy, ducking furious

— B.J. Novak (@bjnovak) June 14, 2013
Images via Getty and Twitter.