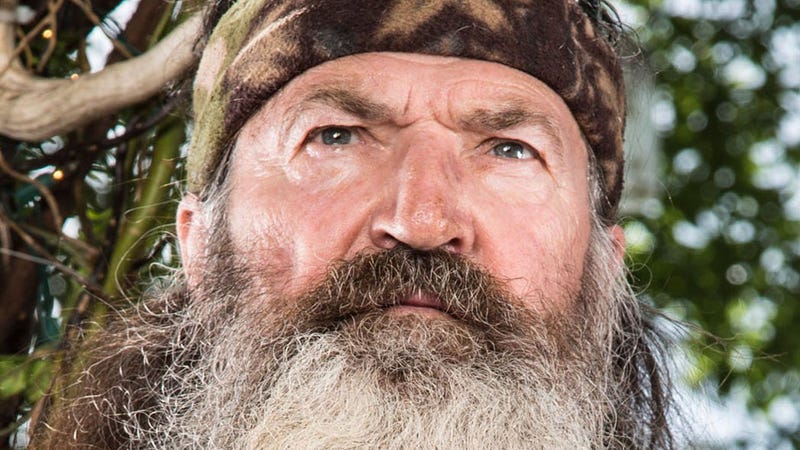 Let's us here talk about Duck Dynasty, but first, let's ask ourselves why any of us were surprised, much less outraged, that a bunch of sketchoid Christian duck hunters in Louisiana who could pass as ZZ Top stand-ins have homophobic or deeply ignorant racist views. I mean really, it's like you've never seen rednecks before, shirtless on a tractor, drinking a six-pack of Busch and eating potted possum. What's that, you say? It's opossum? Well I'll be dipped in shit and rolled in breadcrumbs.
Sorry to burst your outrage bubble, but there's a place in this country called "The South." It's where I was born and raised. Ever been there? I mean, ever really been there? I don't mean, did you go to New Orleans for a week once, or have you delighted in Charleston's great foodie scene, or don't you just love shopping in Atlanta? I mean, have you ever seen the rednecks go muddin' on four-wheelers in the sticks while pounding wine coolers and wearing hats that say "Yer Damn Straight" in places where teen pregnancy is just what happens to you, where graduating high school is still a huge fuckin' deal and literally nothing is cooked without lard?
These are my people. That place is the South, such as Louisiana, where Duck Dynasty reigns. It is teeming with rednecks. You know, country people? Not much educatin', not much city sense? You know, white, Southern, rural, politically reactionary people you might also call yokels? Totes provincial? You know, if your main course is roadkill and more than one relative is named after a Southern Civil War general yadda yadda? To know them is to love/hate them, and to love/hate them is to move to the nearest city as quickly as possible.
Rednecks may be a dying breed, but trust, they are stubborn one. And all the progress in the rest of the country and even the South doesn't much change the fact that they are part of the geography all the way back to the Scots-Irish ancestors they revere (when they know what an ancestor is/have read books). The region is historically remote thanks to the Appalachians, and that geographical remoteness produced an identity of remoteness, of "independence," of separatism, that still stands. The South also lost the Civil War as you might recall? Some people are still mad about it.
As regions go, it is a pretty homogenous one. It's poorer, and super Christian/religious, has much lower rates of education, and more acute poverty — a trend that has been going strong for two whole centuries! These things have certainly been noted, on occasion, to produce fear-based thinking, the sort that leads to hating/questioning/condemning everything that isn't like you, that is to say, everything that isn't white, Christian, and heteronormative, or what rednecks might call "normal."
And, given the chance, it often leads to saying dumb dumb shit about a man's anus and revisionist-as-fuck blather about black people. The thing about being from a not-diverse culture that outsiders tend to overlook is that, not only do people not care about the lack of homogeneity all up in that piece, they'd LIKE IT TO STAY THAT WAY.