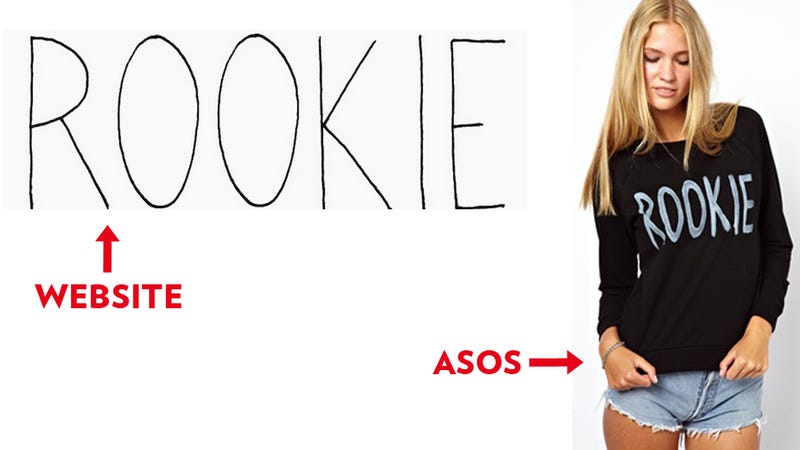 Tavi Gevinson and some of her Rookie Magazine staffers think UK-based online fashion megastore ASOS's "Rookie" sweatshirt looks miiighty familiar. Is ASOS sneakily trying to rip off the teen-approved logo?
An entire google images page of side-eye gifs for this, @asos. Seriously, what the hell. Ew. http://t.co/HO8TFnjIxy

— Tavi Gevinson (@tavitulle) August 22, 2013
So nice of a big clothing company to blatantly rip off a website for girls, @asos. http://t.co/xKhlxSRvA7

— Amy Rose Spiegel (@AmyRosary) August 21, 2013
The sweatshirt ($54, pretty pricey for teens) is made by LA-based label Workshop, described on ASOS as "a hit with Hollywood starlets and the Coachella crowd." Workshop identifies as a "juniors fashion apparel company." The plot thickens.
"This sweatshirt was not inspired by the rookiemag website, it is just something that our art team came up with on their own!" Christina Carter, a merchandiser at Workshop, wrote to Jezebel in an email. ASOS declined to comment.
You don't want to be on Tavi's bad side, ASOS. Fess up — or, at least, start selling real Rookie Mag shirts instead.