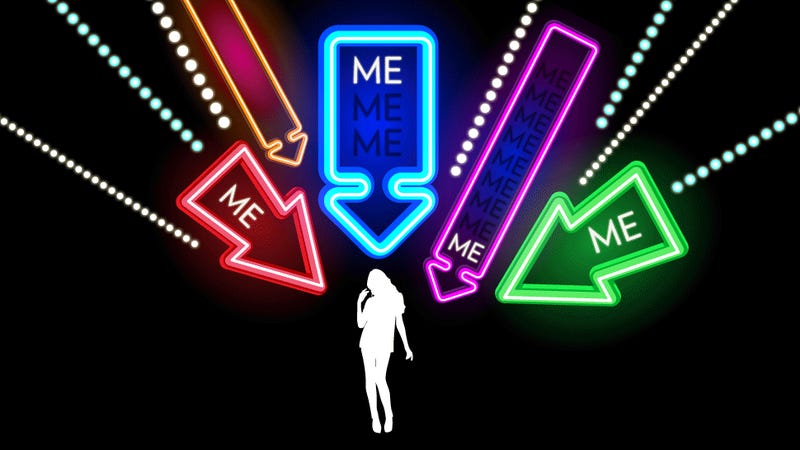 Attention whores are the Rodney Dangerfields of the world: They get no respect. It's not hard to see why. They hurl themselves at the spotlight and writhe pathetically in its ethereal glow, all but begging us — and sometimes outright begging us — to look at them, no matter how awkward, how painful, how sad, how pitiful. We get to have it both ways, too: We look, we linger, and then we play judge and jury. Then they get all invaded-feeling and just want some normal peace and quiet. I didn't ask for this! HA, we say, HA! Because they always come back. BTW, the people we label this way are also mostly women.
Teen Moms like Farrah Abraham, or Lindsay Lohan, or Britney Spears, or the Kardashians, or Courtney Stodden, AKA, "Attention Whore Barbie." They are all celebrity women who openly sought the limelight. Sometimes, as in the case with reality stars like the Real Housewives, they have seemingly directly offered up their hot messes of a life for us to excavate. When we appear only interested in their self-destruct button, they sometimes seem genuinely befuddled or hurt, as if the spotlight wasn't quite the warm, fuzzy embrace they thought it would be, like when Lohan asked the media to point its spotlight on something more important after her no contest plea to theft in 2011. Or when Kim and Kanye set a wedding date and demand NO MEDIA!
There they go again, mistaking the spotlight for a reading lamp when it's obviously always been a fire hose. But here I am doing it: Admonishing them for not knowing better, for not taking what they have coming to them and skipping the pious pose. Obviously they want us to look, right? So they don't get to turn it off. They invite criticism. Judgment. Celebrities and public figures are, of course, our punching bags. This is nothing new.
What's worth revisiting, though, in an era where we have never been more invested in a more progressive, tolerant take on the secret lives of porn stars, sex workers, and other people who were formerly shunned and condemned — people we actually called whores — is why we can't seem to muster that compassionate curiosity for a less literal form of whoring, the attention-seeking kind. Or admit it's wrapped up in our own weird systems of fame, our own prejudices about how women should conduct themselves.
No matter that Charlie Sheen, James Franco and Scott Disick litter the landscape — those are "bad boys." Attention whore is a term mostly reserved for women — sad, fucked up women who deserve every last little fleck of spit we project their way.
And it's not just female celebrities. Everyday women are labeled as attention whores when they seek out male attention in a too-obvious way. Girls who flirt too much. Women who seem to never shut up. Women who, for whatever reason, value attention from men over women, and will do anything to get it, ruining friendships, threatening relationships and mucking things up along the way. And it is women who are advised on how not to become an attention whore, not men.
In a RookieMag piece that gives attention whores a second look, a writer who goes by Nova breaks it down:
This term is applied to anyone (but so often women) who attracts more attention than we feel they deserve. It continues a long, misogynistic tradition of mean phrases invented to admonish ladies for being too visible, too shameless. And it's ironic, because every time we call someone an attention whore, we are paying attention to them!
She goes on to examine the roots of her disdain for attention whores, turning the spotlight directly onto herself, her conservative Christian upbringing, and the envy she felt toward women who broke the rules:
Imagine what someone like me would have thought of a "real-life" Rihanna? When I was a teen, I couldn't stand sexually liberated and opinionated young women, and I often confused their confidence with narcissism, because I had been socialized to believe that those girls ended up being trouble. But secretly, I was jealous of their ability to do their own thing (sneaking out, having sex, cutting class) and also of the attention they got (from boys, from other girls, from teachers) while doing it. (An interesting but unpleasant bitterness can be aroused when it seems as though doing the "wrong" thing is actually more fun than obeying the rules.) Basically, I learned that shaming those who craved attention and acted on their impulses was a necessary part of upholding my self-esteem as a woman, and the wider the distinction between myself and them, the better.
Think about it: We all grow up wanting attention and validation. But as girls, we are taught to not beg for it. To not attract unwanted attention. To not draw unnecessary (read: sexual) attention to ourselves. So in order to be good girls, we couldn't like sexually liberated and opinionated young women. We couldn't like confused or damaged women who seemed to want to form their alliances with men first, and us second. Or we couldn't like women who didn't concern themselves with the rules of female bonding at all, who chose instead to pursue their own kicks, their own adventures, sometimes at great risk to themselves. Oddly, we consider this kind of recklessness or disregard for others, and sexual and adventure-seeking as part and parcel of the rites of passage of becoming a man.
And while we are willing to reclaim slut and bitch for positive rebranding, maybe there's something in attention whore that is not so different from these once-pejorative terms that we've come to see as merely synonyms for difficult, sad, or complicated women who don't play by our rules.
Some thoughts:
What is an attention whore anyway?
In short, it's a highly gendered term for a desperate woman. Someone (usually a woman) who will DO ANYTHING to be in the spotlight. But just like slut, also basically a gendered term for a desperate woman, there is no one definition for how many guys you have to bone to be one.