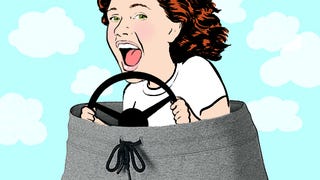 "I got real inspired by Berlin style," my friend Ryan said to me over Gchat a few weeks ago. He'd just returned from a trip abroad. "I bought some fitted sweatpants."
I clicked the link he'd sent and blinked. He'd spent $100 on sweatpants.
"They are the best pants," he said calmly, after I pointed out that that price seemed insane. I brought my protest to others—$100! on Sweatpants!—and learned that Ryan was far from the only one who felt this way. The true outlier when it came to this pair of magic sweatpants was, as it appeared, me.
Men's fashion rarely gets the attention that women's does, so dudes have to latch onto something hard in order to prompt media coverage outside of men's style blogs and the six-months-late Times Style piece. The tapered sweatpant is one of these heat-seeking items. These new ones, the Nike Tech Fleece, are apparently special enough to earn not only the designation as (in Ryan's words) "PANTS pants. Pants for public" but even a Business Insider piece about them, and their growing "cult following."