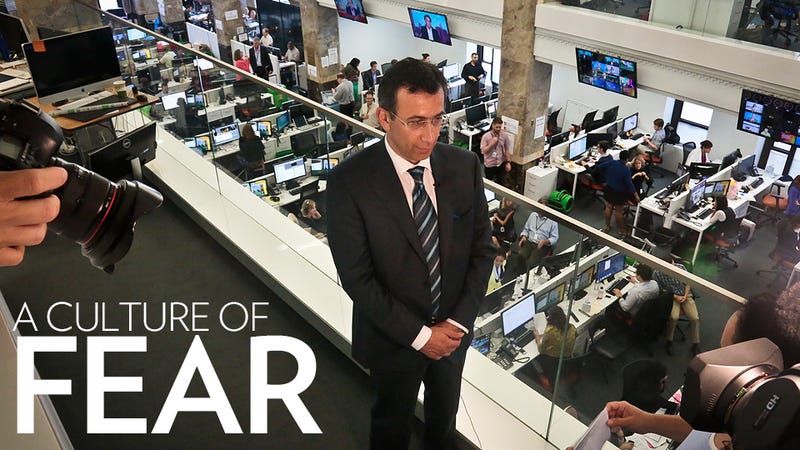 On the morning of May 6, two manholes near Penn Station in Manhattan exploded in succession, spooking pedestrians and temporarily snarling traffic on 8th Avenue as investigators scratched their heads. Less than a block away, Al Jazeera America employees felt their building shake. "Just what we need," one told another wryly.
In the last few weeks, Al Jazeera America has been facing its own series of ground-shaking disruptions: the channel has been slapped with an embarrassing lawsuit, lost a handful of top executives, and replaced its CEO. In the few months, they've hemorrhaged valuable newsroom and administrative talent, laying off at least one entire team. In the last year, unrest, fear, and uncertainty have plagued AJAM employees across departments, as seemingly nonsensical rounds of layoffs and promotions have given the whole place the air of a sinking ship. But it certainly didn't start that way.
In a breathless writeup from August 2013, right before the channel's launch, Brian Stelter wrote in the New York Times that AJAM promised to be "something a journalism professor would imagine." The venture, which Stelter called the most ambitious cable news launch since Fox took off in 1996, was bankrolled by the nearly limitless wealth of the Qatari royal family. Interim CEO Ehab Al Shihabi remarked that the channel would produce "fact-based, unbiased and in-depth news." Twenty-four hours of PBS-quality journalism, every day, by people who have waited for their entire careers to produce these kinds of stories.
On Tuesday, the anchors will look vaguely familiar: most have histories at one or more of the major American television networks. Some of them, like John Seigenthaler, had left the business and said they thought they would not take another job in television, until Al Jazeera came along.

"They said: 'We want to do real news. We want to give it context and perspective and make it balanced and in-depth.' I thought, 'Gee, this is a dream come true,' " he said.
In mere months since its development was announced on January 2, 2013, the channel had hired nearly 900 people to fill its bustling newsroom — veterans, idealists, hard-nosed reporters, editors, producers, on-air talent. They came from places like CNN and PBS; they came out of retirement. Employees of AJAM tell Jezebel that the breathless excitement in Stelter's preview was echoed throughout much of the staff.
How things have changed in less than two years.
---
A May 5 New York Times piece on the channel described its newsroom as "in turmoil," suggesting that now-former interim CEO Ehab Al Shihabi ran the network with an inept iron fist, and that employees from the top down were unhappy.
[I]n the last week, a lawsuit and an exodus of top executives have brought to the surface a series of grievances that employees say reflects a deep dysfunction in management of the newsroom, undermining the network's mission.

"I didn't want to be there anymore because I didn't like the culture of fear," said Marcy McGinnis, the network's former senior vice president for news gathering, who resigned on Monday. "People are afraid to lose their jobs if they cross Ehab."

He maintained that the morale of his newsroom was good, but current and former employees painted a different picture. Most spoke on the condition of anonymity, many because they said they feared retribution from the network.

Last week, at a newsroom-wide meeting described by several employees, staff members complained bitterly about problems at the station: how women have lost their jobs; the fear that offering criticism will lead to retaliation; the lack of promotional efforts for the channel; and how the standards for internal reviews changed without any announcement.
On May 6, shortly after the manhole explosions near Madison Square Garden, employees of AJAM learned Ehab Al Shihabi, that the man they were all afraid to cross had been demoted.
But several current and former employees told Jezebel that AJAM's problems run much deeper than their former leader, and that in order for the struggling network to find the success for which it seemed destined at its launch, many at the top need to be "cleared out."
---
Former AJAM employee Matthew Luke's lawsuit alleges a litany of sexist, anti-semitic, and "Anti-American" behavior from a senior employee named Osman Mahmud. Neither Mahmud nor his employer has responded to the complaint, but the Washington Post reported that he denied the claims.