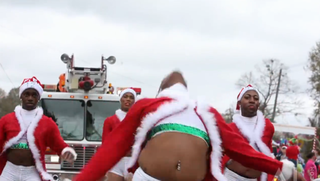 They call themselves the "Prancing Elites" and all they wanted to do was be part of a Christmas parade. But they ended up causing a controversy, just for dancing their normal routine.
The annual Christmas Parade in Semmes, Alabama made big news this weekend when the dance troupe say they were met with unexpected jeers during their performance. Via Fox 10:
Group Captain Kentrell Collins said he had every reason to believe the routine would be welcomed at the Semmes Christmas parade. After all, they were invited. "I said we're all over 21 and we're guys. [The parade organizer] was so excited. She was like I didn't know they had any groups like that in Mobile," Collins said.
But instead of being awestruck by their totally incredible dance skills (seriously, why did I drop out of all those modern jazz classes?), the dancers say they were met with not-so-friendly rebukes. "Some of them were saying stuff like Oh my God, what's that?" is how dancer Adrian Clemons described some of the comments from spectators as they marched by.