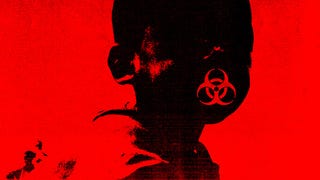 On October 1st, the New York Times published a photograph of a four-year-old girl in Sierra Leone. In the photograph, the anonymous little girl lies on a floor covered with urine and vomit, one arm tucked underneath her head, the other wrapped around her small stomach. Her eyes are glassy, returning the photographer's gaze. The photograph is tightly focused on her figure, but in the background the viewer can make out crude vials to catch bodily fluids and an out-of-focus corpse awaiting disposal.
The photograph, by Samuel Aranda, accompanied a story headlined "A Hospital From Hell, in a City Swamped by Ebola." Within it, the Times reporter verbally re-paints this hellish landscape where four-year-olds lie "on the floor in urine, motionless, bleeding from her mouth, her eyes open." Where she will probably die amidst "pools of patients' bodily fluids," "foul-smelling hospital wards," "pools of infectious waste," all overseen by an undertrained medical staff "wearing merely bluejeans" and "not wearing gloves."
Aranda's photograph is in stark contrast to the images of white Ebola patients that have emerged from the United States and Spain. In these images the patient, and their doctors, are almost completely hidden; wrapped in hazmat suits and shrouded from public view, their identities are protected. The suffering is invisible, as is the sense of stench produced by bodily fluids: these photographs are meant to reassure Westerners that sanitation will protect us, that contagion is contained.
Pernicious undertones lurk in these parallel representations of Ebola, metaphors that encode histories of nationalism and narratives of disease. African illness is represented as a suffering child, debased in its own disease-ridden waste; like the continent, it is infantile, dirty and primitive. Yet when the same disease is graphed onto the bodies of Americans and Europeans, it morphs into a heroic narrative: one of bold doctors and priests struck down, of experimental serums, of hazmat suits and the mastery of modern technology over contaminating, foreign disease. These parallel representations work on a series of simple, historic dualisms: black and white, good and evil, clean and unclean.
The Western medical discourse on Africa has never been particularly subtle: the continent is often depicted as an undivided repository of degeneration. Comparing the representations of disease in Africa and in the West, you can hear the whispers of an underlying moral panic: a sense that Africa, and its bodies, are uncontainable. The discussion around Ebola has already evoked—almost entirely from Tea Party Republicans—the explicit idea that American borders are too porous and that all manners of perceived primitiveness might infect the West.
And indeed, with the history of American and European panic over regulating foreign disease comes a history of regulating the perception of filth from beyond our borders, a history of policing non-white bodies that have signified some unclean toxicity.
---
If the history of modernity can, as Dominique Laporte suggests in his genealogical meditation History of Shit, be written as a triumph of cleanliness over bodily refuse, then so too could the European colonization of Africa and India. The sanitary crusade of the nineteenth century is central to the violent project of empire. Western medicine, with its emphasis on personal hygiene, functioned (and in some arenas still functions) as colonialism's benevolent cover—an acknowledgment that, while empire was about profit at all costs, that it could also conceal this motive slightly by concerning itself with bettering the health of debased bodies.
The bureaucratic annals of colonialism are filled with reports on the unsanitary conditions of life and unhygienic practices of natives. Dr. Thomas R. Marshall, an American in the Philippines, wrote of the "promiscuous defecation" of the "Filipino people." An 1882 British report, "Indian Habits," observed that, "The people of India seem to be very much the condition of children. They must be made clean by compulsion until they arrive at that degree of moral education when dirt shall become hateful to them, and then they will keep themselves clean for their own sakes." Dirtiness and defecation indicated their primitiveness and savagery; it reaffirmed the white body's privileged position and claim to moral and medical modernity.