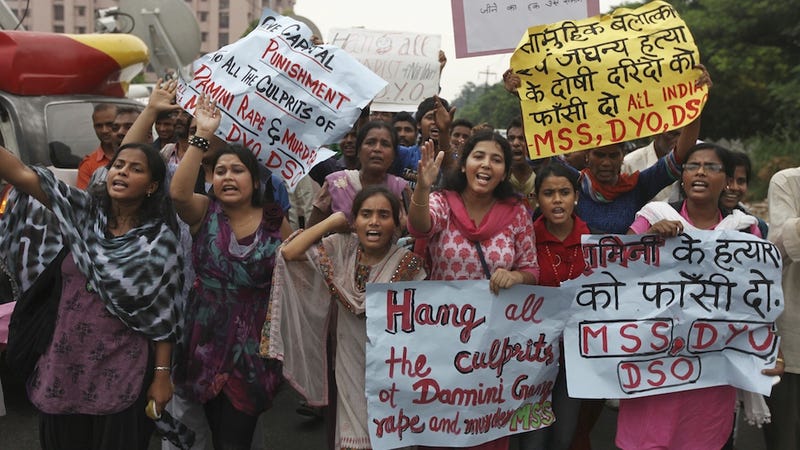 Today, four men convicted of brutally gang raping and murdering a young New Delhi woman were sentenced to death by hanging. The decision was met by cheers from the crowd gathered outside the courthouse.
The four men were found guilty of rape earlier this week, following a shocking and horrifying crime committed last year that riveted India: the rapists lured the 23-year-old victim onto a bus, where they gang-raped her for an hour and beat and penetrated her with a metal rod. She died of internal injuries in a Singapore hospital two weeks later. Of the two other men present on the bus, one (a minor) is currently serving three years, and the other was found hanged in his prison cell. His family believes he was murdered.

The victim's family was in the courtroom as the sentence was announced. "I am very happy our girl has got justice," said the victim's father.

It's not clear that the men will actually face the death penalty. Though an estimated 100 to 150 people are sentenced to death each year in India, only two — both terrorists — have been executed since 2004. This is because India's Supreme Court has ruled that the death penalty should be administered only in the "rarest of the rare cases."

Judge Yogesh Khanna rejected defense arguments that invoked this precedent, stating definitively that the unmitigated brutality of this crime embodies the "rarest of the rare" — although the misogyny motivating it is sadly commonplace. When issuing his decision, he said, "In these times, when crime against women is on the rise, the courts cannot turn a blind eye toward such gruesome crimes."