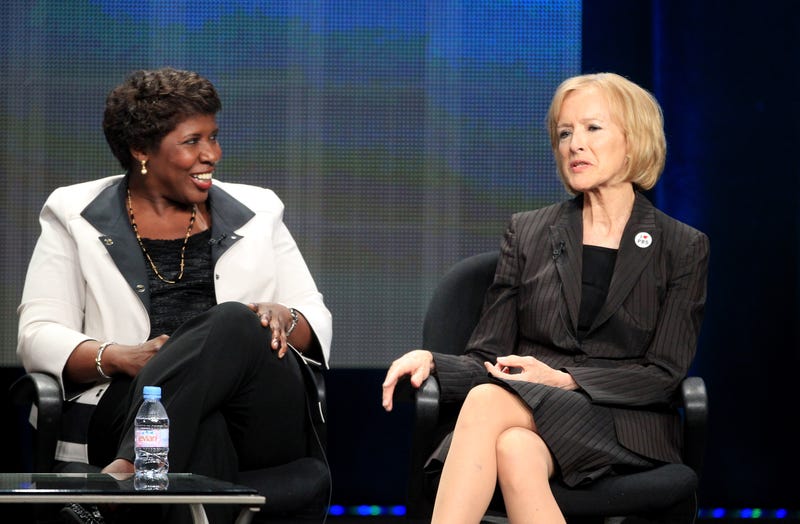 Good news for people who like to watch people other than white men host their evening news programs: PBS has grabbed Gwen Ifill and Judy Woodruff to co-host NewsHour, the channel's long-running nightly news program. According to PBS, "This will mark the first time a network broadcast has had a female co-anchor team." Bonus diversity points because one of them isn't white!
When it launched, NewsHour was hosted by Jim Lehrer and Robert MacNeil. MacNeil eventually left, leaving the show to Lehrer, who retired in 2011. Since then, a rotating cast of hosts has been in place. In statements, the two women sounded pretty jazzed that they're the ones that will be taking over permanently:
Ifill: "I am so pleased to be taking on this new role alongside my colleague and dear friend Judy Woodruff. We've successfully worked side-by-side for many years covering conventions, elections and countless other news events. We make a great team."

Woodruff: "Gwen and I love working together and appreciate the trust viewers put in the PBS NewsHour, both on TV and online. Working with Linda and this entire terrific team, we'll do our best to make sure the next chapter for the NewsHour upholds its reputation for excellence, independence and integrity."
Ifill and Woodruff are basically the journalistic equivalent of a buddy comedy. The pair has already worked together, and well at that: you last saw them hosting the network's RNC and DNC coverage and Ifill has moderated previous presidential debates. According to the New York Times, they've also spent plenty of time "on endless panels together discussing women in journalism":