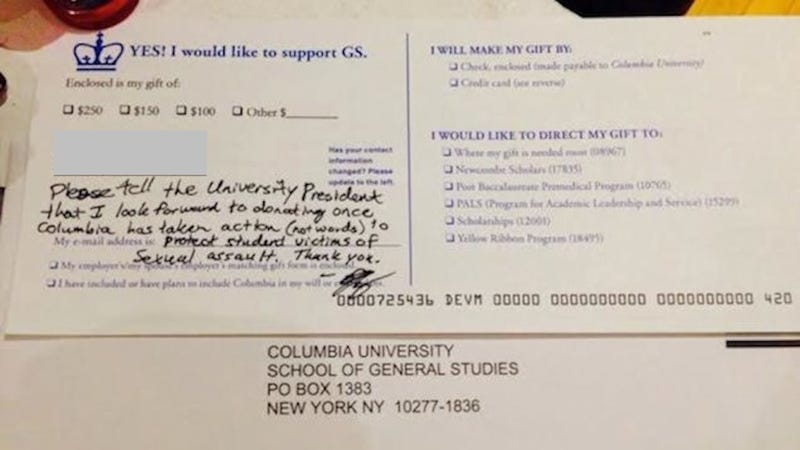 Being asked for a donation by a college with millions in its endowment is obnoxious enough for a graduate who is still at least a decade from paying off her student loans. It's downright insulting when the organization holding out its hand for no-strings-attached money is in the news for mishandling rape cases. And so some alumni are fighting the college sexual assault with their pocketbooks.
Sixty colleges and universities are currently being investigated by the Department of Education over their abject inability to handle rape on campus that respects both the accused and the accuser. Even more have been in the news in recent years for failing to prioritize students' safety over their reputation (and, by extension, their ability to convince alumni to cough up donations). Unfortunately for colleges and universities' desire to sweep this sort of thing under the rug, it's a lot harder for them to keep students quiet in the age of social media.
Alumni of at least three schools facing an avalanche of bad press from students who say they were treated poorly after being sexually assaulted are responding by telling administrators that words aren't enough, and until concrete evidence exists that schools are serious about keeping students safe from sexual assault, they won't be donating money.
Columbia's perhaps the most recently prominent of the rape schools, as over the last couple of weeks, someone began scrawling a "rapist list" on women's bathroom walls and distributing flyers that contained the names of four male students who had been found "responsible" for sexual assault by Columbia but faced no major consequences. One of the women who says she was victimized by a person on the "rapist list" has since filed a police report accusing her classmate Jean-Paul Nungesser of rape. Nungesser is currently studying abroad in Europe, and Columbia's PR disaster was featured on this Sundays This Week with George Stephanopoulos.