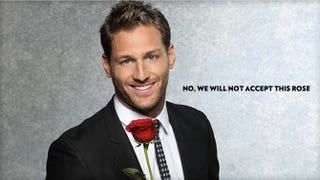 On Monday night's episode of The Bachelor, a lovely young woman named Clare had a sultry 4 am rendezvous in the ocean with Bachelor extraordinaire Juan Pablo. Unfortunately for Clare, the waves of joy she experienced were as the short-lived as the positive sentiment surrounding her chosen mate has been.
Clare and Juan Pablo have a special connection or something, though by the looks of the preview for next week, that connection will soon be broken. The night of the group date, Juan Pablo decided that Clare was worthy of some bathing suit alone time, and they canoodled in the pool of his private suite, just like they had in a hot tub in a previous episode. "I took her to my suite. I just wanted to have a good time with her, make her feel special. Let her know that I feel comfortable with her," Juan Pablo said. This was one of many times he would use the word "comfortable" with regard to his actions with Clare; she's considered a bit uptight and needed to be brought out of her shell or something.
Clare, emboldened by the special attention he was giving her, took the bull by the horns and, like Courtney had in Ben Flajnik's season, invited Juan Pablo to go in the ocean with her in the middle of the night. ("I just wanted to come and say thank you" = classic line.) While there's much debate over whether or not the two actually had sex in the those warm, Vietnamese waters, things were apparently hot and heavy enough to prompt Juan Pablo to reconsider whether it had been the right thing to do. During the Rose ceremony, Juan Pablo decided to take Clare aside and tell her that he wasn't sure that what they did was "fair" to the other girls, and that he was worried about the example he was setting for his daughter.
"That was good," he said to Clare, who was still brimming with joy over the whole affair, during one of two talks about the incident they would have. "But at the same time it was kind of a little weird for me." Juan Pablo then proceeded to not explain himself at all and make Clare feel terrible. Even after backtracking and saying she shouldn't be upset, that he was just trying to explain how he felt to her, Clare clearly felt terrible, given that she had just made an emboldened toast at the Rose Ceremony about "finding love, being loved, and making love." (She may have also been remembering and cursing herself for the comment she made about being so excited she felt like a baby giraffe with wobbly legs? Unclear.)
Do we all regret things after we think about them later? Yes. But Juan Pablo's oft-repeated desire that he be liked and his attempts to avoid hurting others has resulted in as many mistakes as he wanted to avoid. In the process, he's totally ruined himself as a sexy and viable life partner: not to make bold, sweeping statements about a reality television show, but he is fading fast in the eyes of the public. This man was once deemed so good looking and charming that ABC renamed the month of January for him. The homophobic comments he made while doing a promotional appearance soon after the show premiered really started things off, but his behavior during episodes like Monday night's has not engendered him to anyone. He may have apologized for calling gay people "more pervert" but he's not backing down about Clare; on Tuesday he took to his People magazine blog to reiterate his belief that he'd made a mistake by going in the ocean with her, making no apologies about the way he handled it.