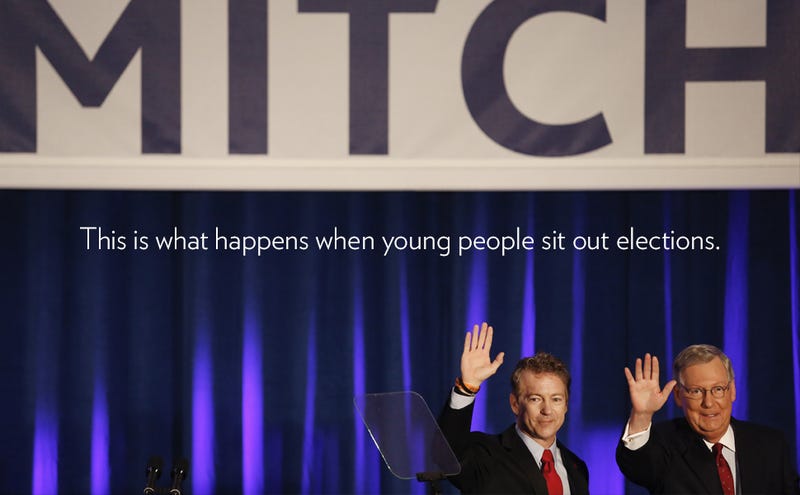 Did you vote yesterday? Are you under 30? Well, congratu-fucking-lations. You are among the few and the proud.
Yesterday, Republicans swept to what I'm bound by day-old tradition to refer to as "historic victories," taking the Senate, increasing their majority in the House, and holding fast to most contested governor's races. They even picked up a few surprises—for the first time since 2003, Illinois elected a Republican over incumbent Muppet Pat Quinn, and in Maryland, Republican Larry Hogan upset Anthony Brown (and, one can assume, most of the Democratic Get Out the Vote drive in the state). Wonks insist that this is a referendum on the job that President Obama is doing, or on Obamacare, or on Ebola, on "the economy." "The American people want something new." "The American people want change."
Nope. Old white people want change. And they're the ones who get it, because they're the ones who give enough of a shit to vote in midterms.
NBC News has some telling (and shameful) data visualization about who votes, and when. This year, 37% of the people who voted were over 60. Only 12% of voters were under 30. Compare that to 2012, when Democrats were the ones celebrating — 19% of the vote came from people under 30 and only 25% from people over 60. In 2010, that gap widened up again; 12% of voters were under 30 and 32% were over 60. In that election, Republicans won big, swinging the House. In 2008, young people showed up, and Democrats won. It's not rocket science.